I decided to start a new painting on a whim the other night. I had seen this Daily deviation on DeviantArt in the style of painting that I had always wanted to have. I haven't really picked up a paintbrush since Christmas so launching myself into this project is kind of a big deal for me. The picture below is my painting as it was at the end of the first night painting.
I was pretty proud of myself for getting the motivation to get off my ass and actually do something about this pent up creative energy I've been choking myself with. I was merely satisfied however, because the painting style was no where near the artwork from DeviantArt that I wanted to immulate. This painting below is the style I want to have.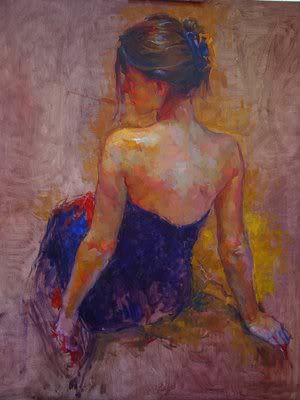 This is not mine. This artist can be found here at http://rpintor.deviantart.com/
Give him comments because his work is outstanding.
I love the unblended, loose strokes and wide range of colors he uses. I can not seem to get this style down no matter what I try. I went back to work on my own painting the second night and managed to turn it into a mess thinking that the only way to get my style to look like his was to use a palette knife. Big mistake. Now I have to wait for my mess to dry because it is in oils and maybe if I can, fix it. I really hate coming to that wall of 'is this only how far my talent will take me?'
I realize that all artist's are gifted with their own specific styles and they are all beautiful, but I still want to be able to grow as an artist. I don't want this to be my stopping point. I want today to be only the beginning.