So the end of the second season for Gossip Girl is coming up and I am super excited.This week's episode "The Wrath of Con" aired yesterday and definitely set up some issues for all the characters. First of all, Blair and Chuck's confrontation. Sad but true, Chuck has never really been good for Blair even though he obviously does love her. I can't believe Lily had Serena arrested, how does getting your own daughter in jail create any less of a scandal? It was kind of ridiculous but I think the writers were trying to open up the series to its spin off about Lily's own wild child days.
Next week, on May 11th, Gossip Girl's prom episode "Valley Girls" will air and will include flashbacks to Lily's past as a crossover to a spin-off series. The spin-off focuses on Lily Van der Woodsen's youth in the 80's. Lily Rhodes is played by actress Brittany Snow.
I am not sure if I will be as interested in the spin off as the original series, but No Doubt will be performing in the crossover episode which will be awesome. I am also glad that Georgina Sparks is back and has shook off her I-love-Jesus act. Hopefully we will get to see some of her own fierce style instead her looking like a Blair-doppelganger.
My favorite quote from the last episode is Georgina's call to Blair:
"You can tell Jesus that the bitch is back."
I am also looking forward to the fashion in GG's prom episode. Upper East Siders wear only the very best and ridiculously expensive on their special night. Serena's dress is a chiffon gown by Dior that apparently sells for $19,650. Crazy right?! I think it suits her though, Serena's style on the show has always been very relaxed and simple yet luxurious. Blair's style on the other hand has always pulled out all the stops. Her dress is a one of a kind Marchesa gown that isn't sold anywhere at all. I really love the gold peacock feather detail on her gown.
Although I think that Nate was good for Blair, I still support Chair and think that Nate needs to be with someone else. Preferably not Vanessa, so I am glad he is reportedly going back to Jenny. My only complaint is that I wished he would take Jenny to prom because lord knows the little fashionista would concoct some stunning creation to wear that night. I am a big fan of the new Jenny and I would have loved to see what she would have made herself to compete with Serena's Dior and Blair's Marchesa dresses.
In reality, Nate takes Blair to prom, but this is the dress I came up with for Jenny to have made for her prom dress.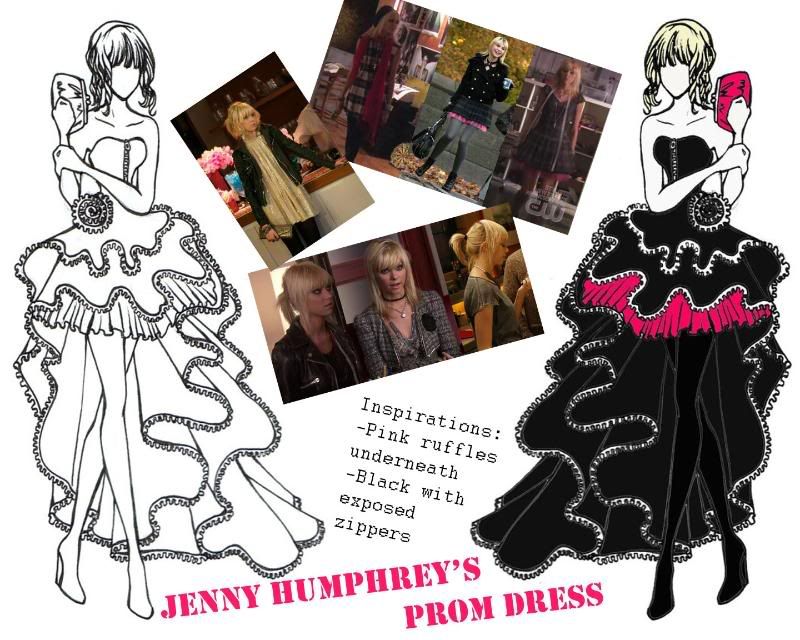 I was really afraid that this dress looks like the Cancan thing Paris Hilton wears on her perfume ads. In my head Jenny would have looked great in this dress at the prom though. A dramatically asymmetrical ruffled gown with exposed open zippered hem and hot pink tulle underneath. It was inspired by the pink skirt Jenny wears under her uniform to school, the amount of black she always uses, and the heavy hardware she puts on. The skirt is edged with zippers. Even though I could not draw it accurately and it looks like white lace. It is ZIPPERS. Like the clutch below.
Looking forward to the Prom episode of Gossip Girl.
Thanks for reading!