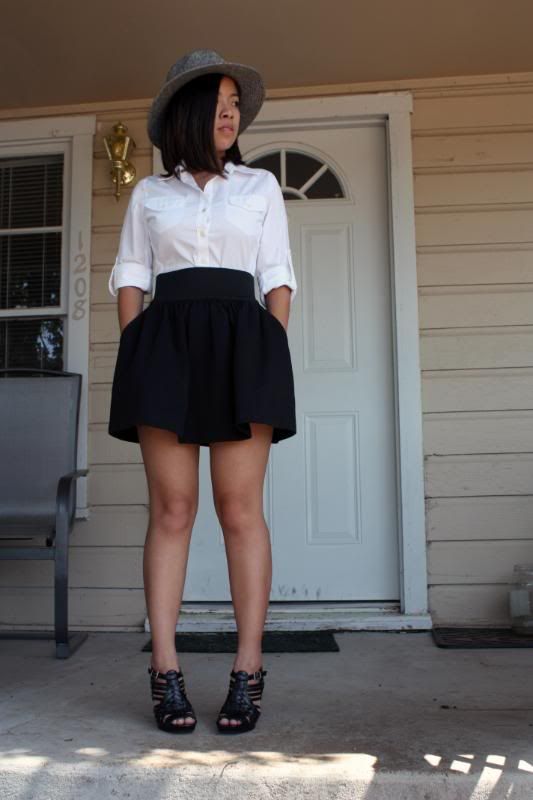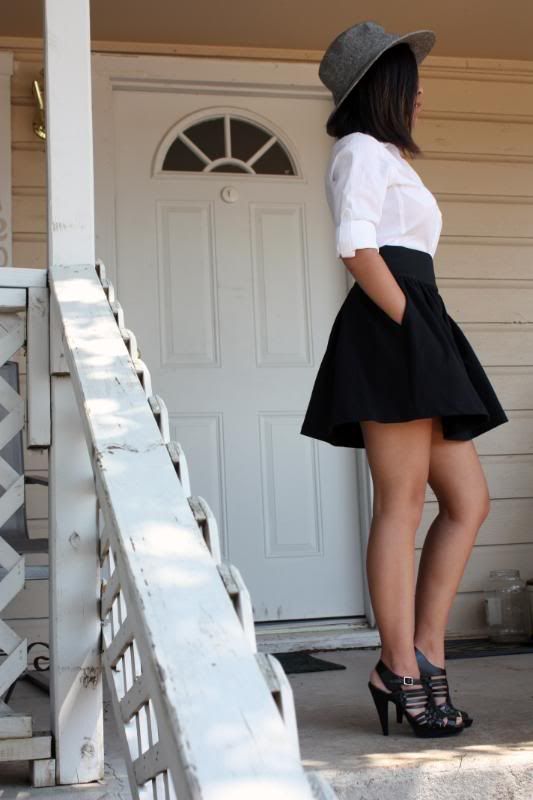 Black Skirt-Oxford and Regent. White Button Down-Converse by Target. Hat-Thrifted. Heels-Target.
So I bought this black skirt not realizing how short it really was. Sounds impossible, I know. I think when I tried it on I wasn't wearing at my waist, but at my hips. Scooting a skirt up from your hips to your waist can take it up a lot apparently. I guess I should wear it with black leggings next time when its cooler, although I may not be able to wait that long. Judging by today's Texas heat, it feels like Fall may never come. Oh, and my arms are not disappearing half way. This skirt has awesome pockets!
I bought this old man-ish fedora from a thrift store quite a few years ago. Originally I got it because it was less than a dollar and I needed something to hold my hair up the the summer heat. But back then my hair was long and reached my lower back, now it barely touches my shirt collar in the back. I've been wanting a more bucket shaped feminine version of this hat for winter. Like the ones women wore in the 20's. Something like
this
. Not sure whether in black or gray.
I've come to the point where I really want to come into my own sense of style. Rumi of FashionToast once said that a sign of coming into your own style is when things you bought years ago you still love today. Having gone through so many phases clothing wise in my life, I definitely don't have this yet.
Here's hoping that it will happen soon,
Rach:]