Leather jacket-Vintage. Shorts-Thrifted. T-shirt, Tights-Target. Heels-Simply Vera by Vera Wang for Kohls.
Its been a while since I have posted anything regular here on Visual Basic. Those of you who have been reading every now and then may have been confused by my last posts that seem off-topic from my usual fare. Truth is, my previous entries have been ideas for one of my animation studios in school. I am truly sorry for the divergence, but I am back on track now and here to stay.

After such a long period of being m.i.a. I feel like I should re-introduce myself and this blog. My name is Rach and this is not a fashion blog. This blog is a slap-dash of all of my interests. Which happen to include fashion, photography, animation, food and art. Pretty much the best things in life.

Recently I had an epiphany that I should probably have realized years ago. I want to be a fashion designer. As aloof and out there as it seems, I feel like this is where my dreams keep gravitating towards. I keep making excuses for myself to not pursue this, like the fact that I don't have the knowledge about fashion, the formal education, or the experience in making clothes. But those things will come in time. Along with my schoolwork in computer animation, I plan to work on drawing and creating designs on the side. I don't expect to be the next Vera Wang, but I expect I will be happy trying my hand at something I have a passion for.

To begin this long journey, I've started to sketch up some fashion drawings: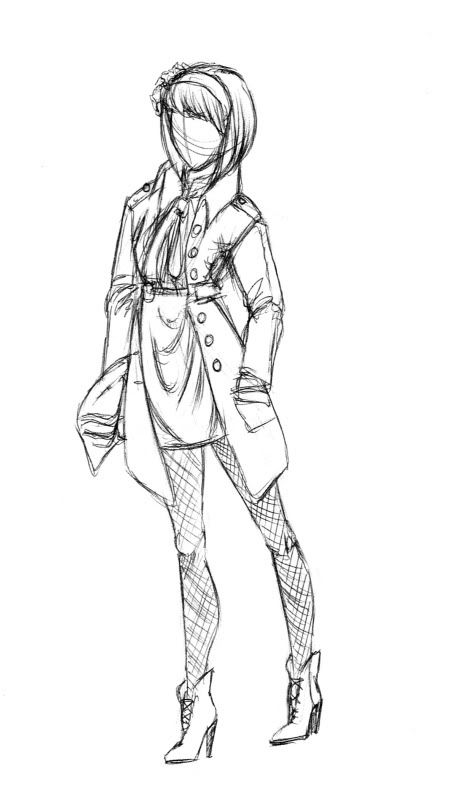 This one is very Blair Waldorf inspired. Notice the headband of power? I imagine the blouse being a sort of small print and the coat being a purple tweed.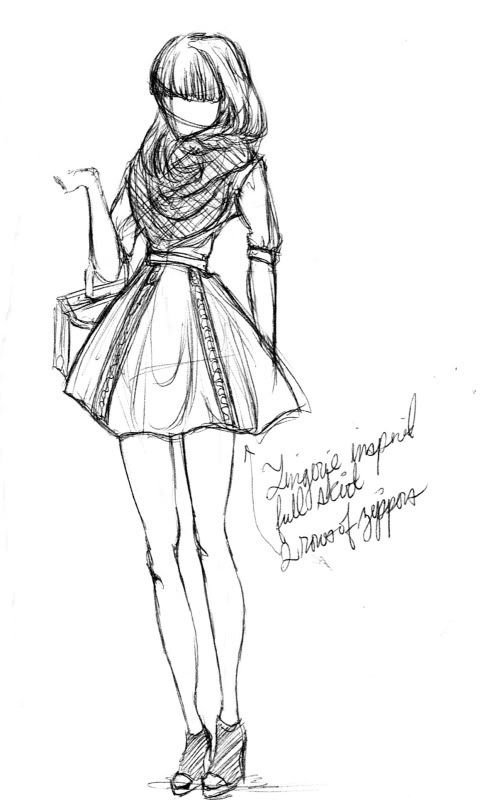 The skirt here is supposed to resemble the lace up stockings lingerie uses. Instead of two parallel lines of ribbon, the skirt has two rows of zippers.




This is pretty much the skirt I want to wear on my birthday. I imagine it in a khaki twill with brass military buttons with a loose black tee.




I really really want a leather vest for the summer, but I haven't found one that fits correctly on me. The perfect vest hangs like this one.



I hope to keep coming up with more sketches like these on a regular basis. Hopefully the life drawing class I took and frequent practice will evolve my style more and more.
Thanks to my readers who have enough patience with me to come back to my blog after this long hiatus! You guys are the best!
Rach:]