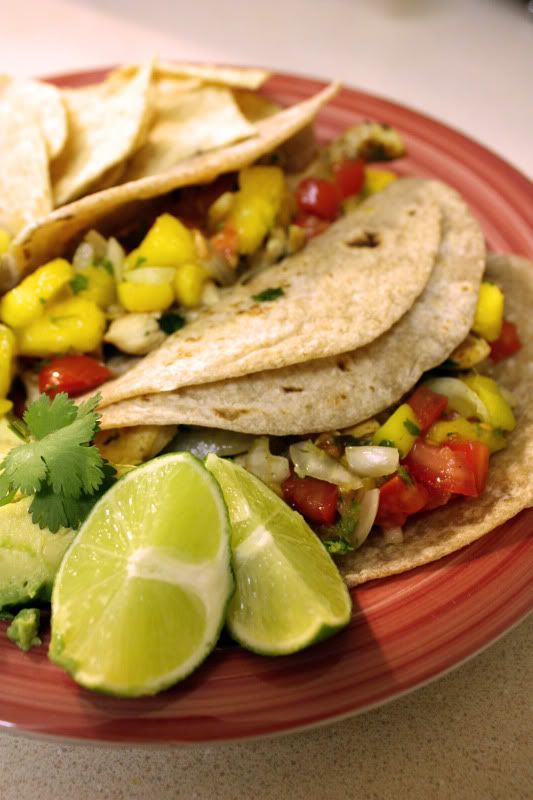 Before my summer Physics class started and I still had a life, me and Brandon decided to cook chicken tacos with mango salsa for dinner one night. It really is the perfect summer dish, clean and cool with little to no grease and a ton of natural ingredients. Certainly beats the frozen dinners and ramen noodles we have become accustomed to living off of.
I also got to practice my food plate arranging skills. Perhaps I've been watching too much Iron Chef America on the Food Network. These are my first attempts so by no means are my techniques restaurant worthy yet but I'm getting there.
The recipe is actually incredibly simple. Honestly we didn't really adhere to one provided recipe or the other, but instead just kind of winged it. Sure this doesn't really work for most cooking, but this dish is pretty much foolproof. Anyone can throw this together.
For this recipe you will need:
-5 or 6 Tortillas. [I love the freshly made ones. And wheat tortillas are a healthy choice!]
-4 or 5 Chicken tenderloins.
-1 Onion. [We used a sweet white onion]
-1 Mango. [My Mom taught me to ripen mangos by leaving them in uncooked rice in the pantry]
-2 Tomatoes.
-1 Lime.
-A few stems of Cilantro.
-Salt and Pepper.
-Sour Cream.

1. First start with the mango salsa since it needs time to sit and refrigerate. Chop the tomatoes, onion, cilantro and mango into small chunks.
2. In a medium sized bowl, mix together the mangos, tomatoes, half of the cilantro and half of the onions.
3. Squeeze in lime juice to taste. I like to use about a quarter of a lime. Add in salt and pepper to taste. Mix well.
4. Cover and set it the refrigerator for at least 20 minutes. The ingredients need time to mix so the favors can settle together.

5. Tenderize the chicken and season it with salt and pepper. Chop up the meat into small bite size strips.
6. Heat a large flat pan on Medium-high. Drizzle on some oil and then add the second half of the onions.
7. When the onions are slightly cooked, add in the chicken strips. When the meat is browned, lower the stove heat to Low. Add in the remaining cilantro and mix well.

8. On a plate, place the tortillas on it and cover with a damp paper towel. Microwave this for about 30 seconds.
9. To serve, fill each tortilla with the chicken mixture and top with the mango salsa. Don't forget to add a few slices of time and a dollop of sour cream on the side.
10. Of course this meal isn't set without some tortillas chips to finish off the salsa. Eat and enjoy!

Rach:]