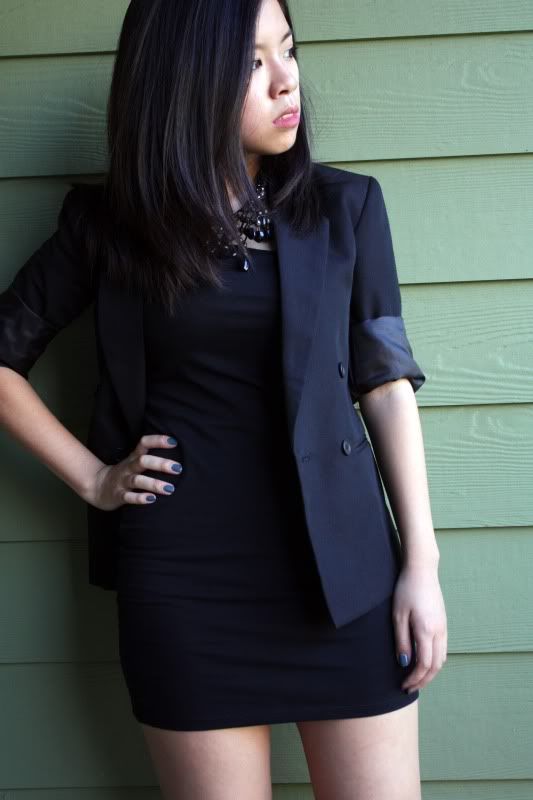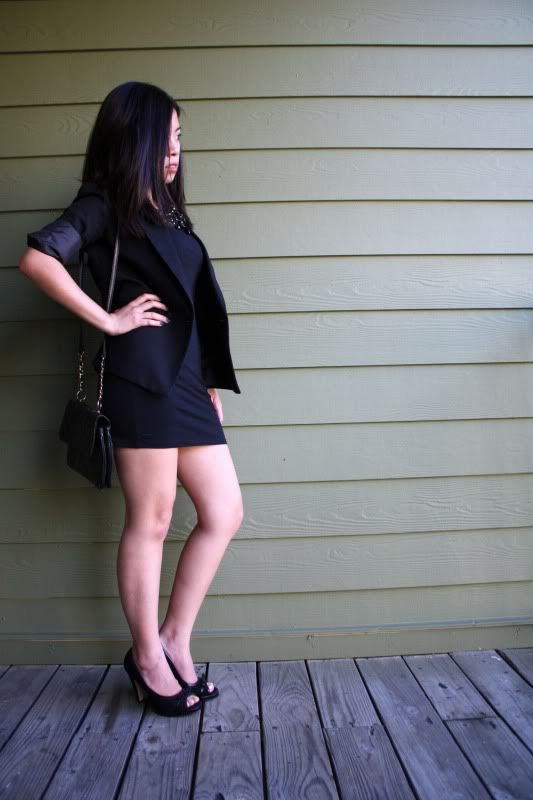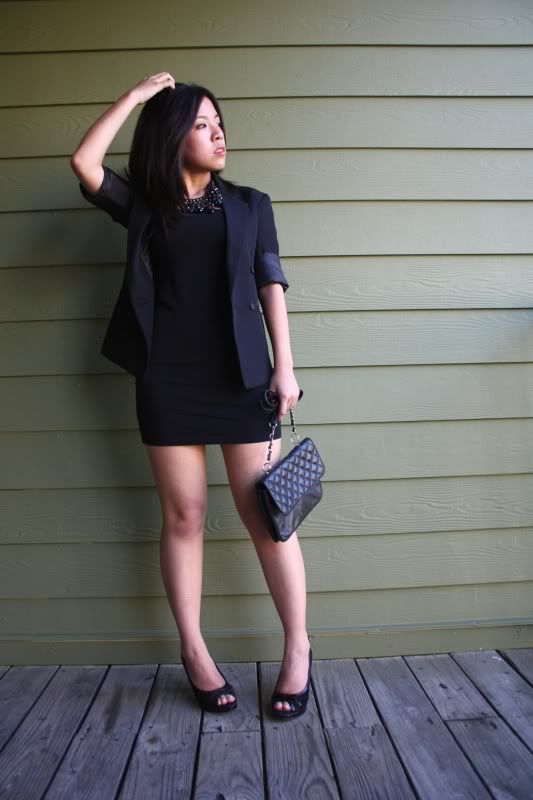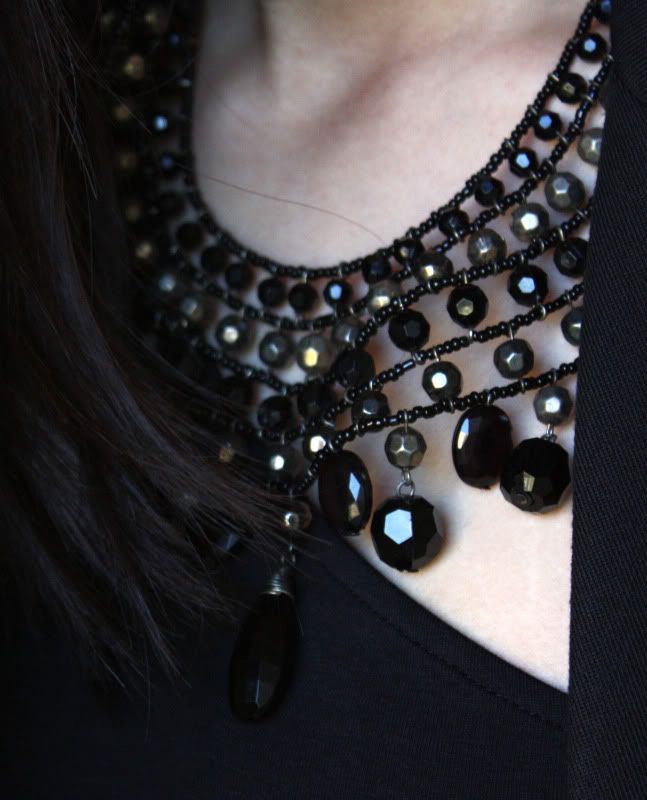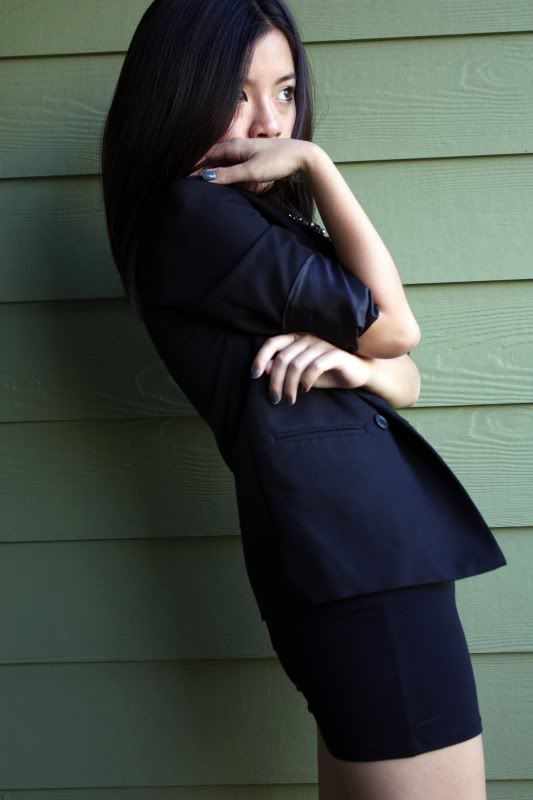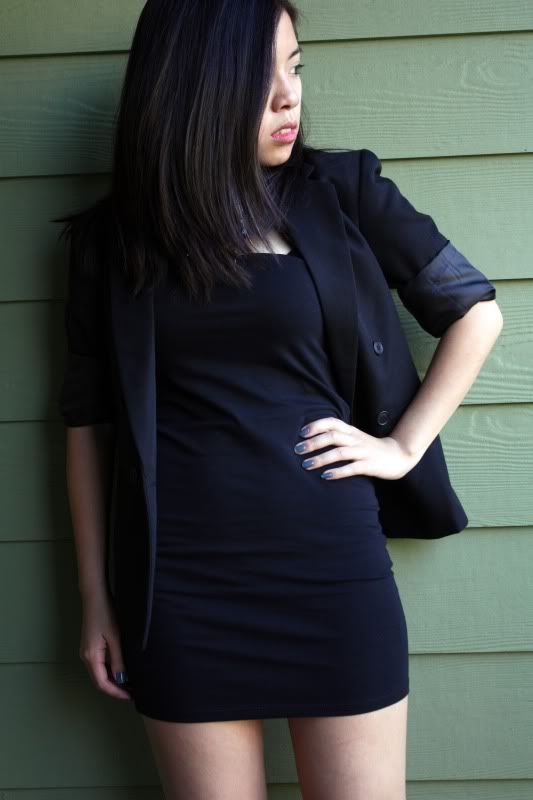 [One-shouldered-top as dress- Forever21. Blazer, Quilted purse- thrifted. Heels- White House Black Market. Statement necklace- gift.]
Alright so I'm writing this post before I've taken the pictures for it because I feel like I'm about to burst if I don't get this written now. So in my last outfit post I discussed the fact that I was in a rut with my appearance. For a while I really thought that getting new clothes, cutting my hair, or getting compliments from a guy would help yank me out of it. Sounds superficial I know, but as girls, we all subconsciously think like that. We go to the mall to buy something that we are convinced will make us seem more attractive. We swear that our next haircut will make us look like supermodels. We subtly try to get guys to comment on our looks and sometimes go to crazy extents for it.
Well earlier today in my Billards class that I am taking at the local community college, I had an epiphany. Yep. In that dark, dirty, gritty pool hall that reeks of cigarette smoke, I got pulled out of my rut. How, do you ask? Did I obliterate my opponent in a game of pool to feel so confident? Did some guy in my class hit on me to make me feel better about myself? NOPE. Not at all.
Quite the opposite actually. I was in the middle of epically loosing a game of 8-ball when this uber-trashy, huge-ass-pickup-truck-driving, still-hung-over-from-last-night guy comes stumbling over from the next table and starts not so subtly hitting on my pool table partner. Now in my younger high school days, I would have probably been really offended by this move. I'd berate myself over and over in my head,
'Why doesn't he think I'm attractive too?' 'What makes her better looking than I am?'
And so on and so on. Well not today. As this random guy went on making moves on my pool partner, the voice of self-confidence in my head (which had been dead silent for months now) finally snapped and I thought
'What the hell does this guy know? I'm HOT!'
I know this sounds arrogant to be sure, but we as girls need to all think this way. It really is never about comparing ourselves to other girls around us. It is not a competition with each other that we are in. Its a battle against ourselves that we are constantly fighting. You and you alone are the only person whose appearance should matter to you. Never rate yourself next to someone else. How can we, as girls, truly grow up to be confident and secure women, if we constantly compare ourselves? The only way to grow up to be yourself is to only think about yourself and no one else. It doesn't matter what the next girl looks like or what some guy thinks at all.
You should believe that you are amazing. And your opinion is the only one that matters.
So yeah, be completely self centered when it comes to your thinking. In your life, you are the only person whose achievements, well-being, and looks you should compare yourself to. As much as you adore your best friend or your boyfriend,
each girl must learn to be her own best friend and boyfriend.
Compliment yourself in the mirror the way your best friend would if she were looking at you. Take care of yourself the way you would expect a boyfriend to. I, like every girl, am on a twisted path of trying to become self-sufficient and strong. So no, I don't know what the photos I'm about to take for this post look like yet, but I don't really care.
Rach:]