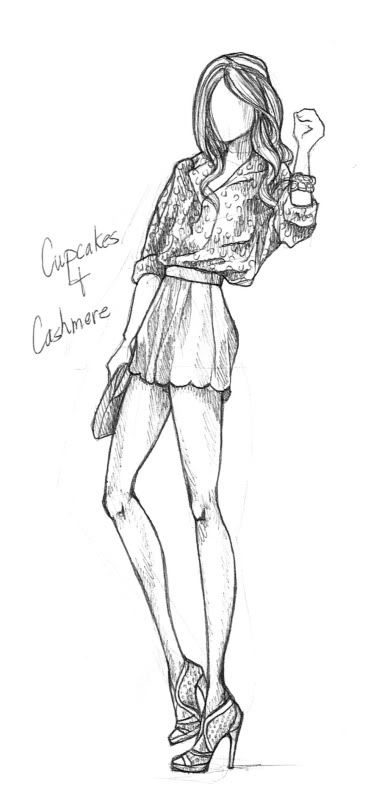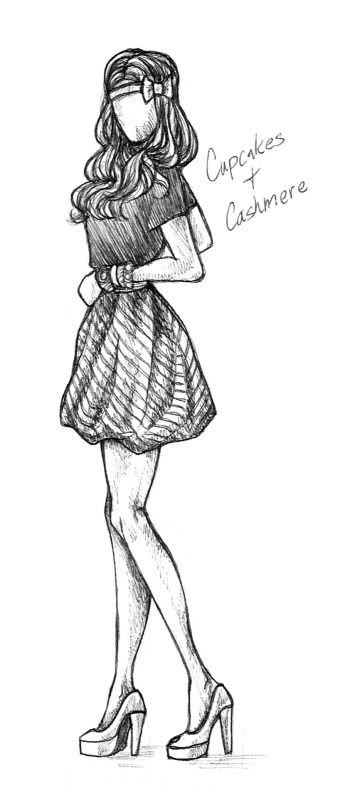 Hello there! Welcome to the Eighth edition of
Blogger Sketch Sunday
! At the beginning of every week I like to post a few fashion sketches of bloggers who inspire me. This week's edition features Emily of
Cupcakes and Cashmere
whose blog is located in Los Angeles, CA.
3 Reasons I love this blog:
-Emily's blog is the perfect combination of food and fashion. Many other blogs out there cover both topics, but not like this girl does. I absolutely LOVE her recipes and food photography. She posts entries on how to make delicious dishes such as Strawberry Shortcake, Home-style Onion Rings, Chicken Pot Pie, Lemon Bars and Watermelon-Lime Popsicles. Her photos record the cooking process and always look picture perfect. Good food photography is no easy feat, but her photos always bring out the beautiful textures and colors in the food she cooks.
-Her style is so relaxed and breezy while still retaining a little edge. She's like the gorgeous girl you knew in high school who always seemed so carefree and chill. Her outfits seem to revolve around flowy fabrics with small floral prints or lace and tougher extras such as leather belts and ankle boots. And every ensemble seems tangible, like it would translate well in real life.
-She has intriguing home decor ideas. Her blog doesn't boast about being an interior design connoisseur, but all of her Do-It-Yourself projects for her place are creative and chic. I loved the idea she had for using the pretty door-knob handles from Anthropologie as jewelry hangers in the bathroom and how she found a bunch of flea market gold frames and clustered them together for a special wall peice.
If you've never seen her blog, you should most definitely go check it out. Every time I see her blog I immediately want to go cook a meal, create something for my apartment, or break out my flowiest skirt. I've added the link to the blog where I named it above.
Thank you again to all the new followers I have received from this weekly tradition. Doing this is something I really enjoy and aim to continue with it. Hope the rest of your Sunday is wonderful!
Rach:]