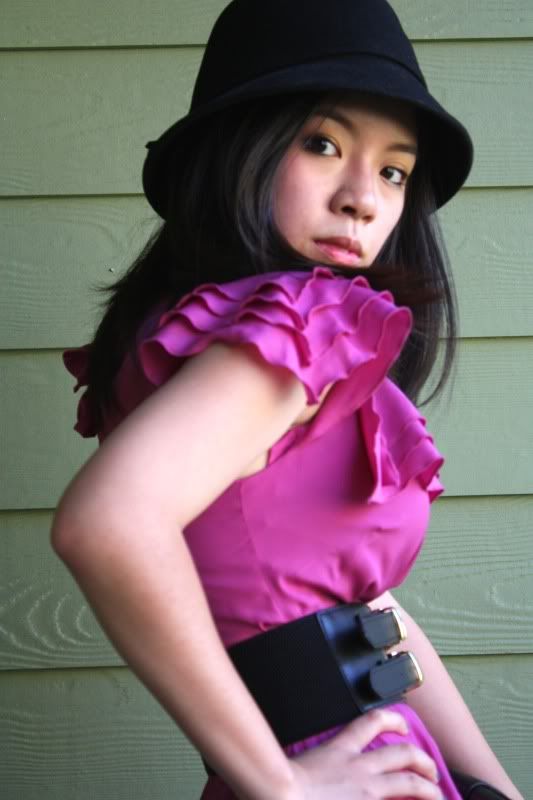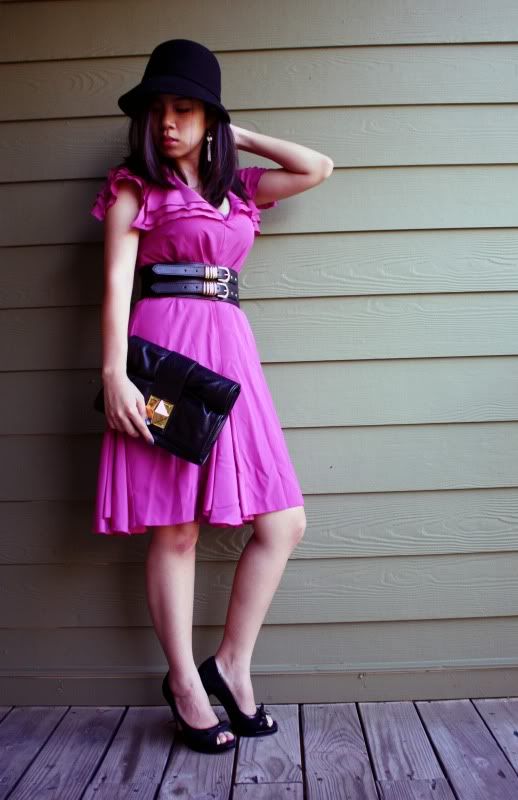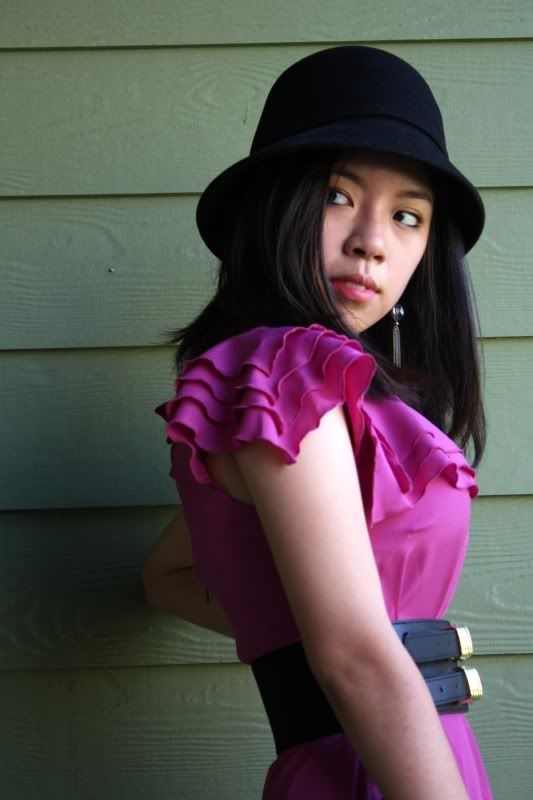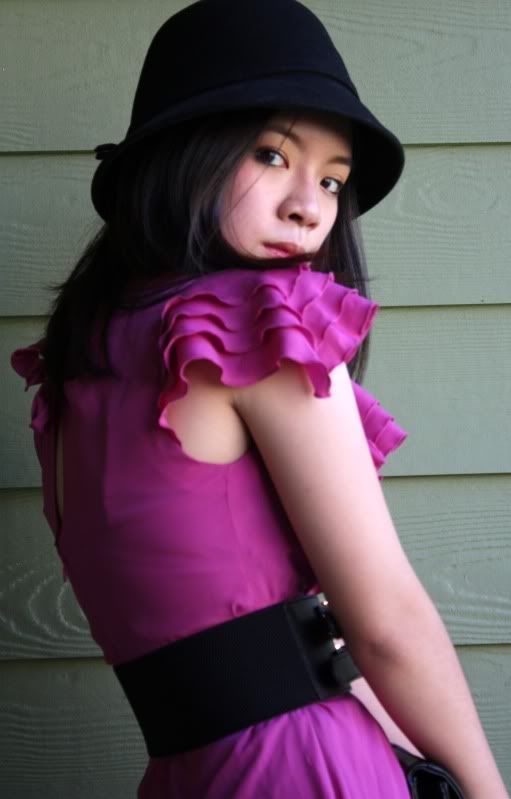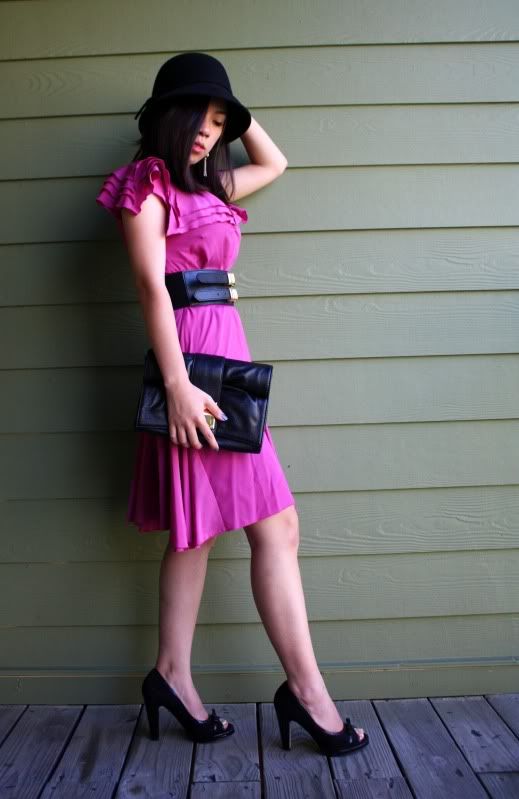 [Dress- Zac Posen for Target. Belt, Clutch- Forever21. Cloche Hat- gift. Heels- White House Black Market.]
I am having serious Gossip Girl withdrawals right about now. I'm always surprised how addicted I am to such an girly series, especially since I can't stand other female focused shows (The Hills, One Tree Hill, Secret Life, etc) But I guess the pleasure in it is getting to watch the lives of incredibly rich fabulous teens tromp around Manhattan stirring up unnecessary drama. The designer clothes they throw on, the over the top parties they throw, and the ridiculous issues of the wealthy are what make the show impossible to stop watching. Of course I miss leaving the reality of my college-age, sleep-deprived, broke-jobless-self for this lavish fantasy world an hour a week.
I like to imagine myself walking around looking just as chic and intimidating as Blair Waldorf. I know its just a personal illusion in my head, but somehow thinking of myself as Blair makes me walk a bit taller. And what is the harm in that?
I absolutely love the look Blair wore at the White Party in Season 3 of Gossip Girl (which you can see [
here
] ). Its hard to come across pictures of this outfit because most people were more taken with her white Marc Jacobs dress at the White Party in Season 2. Obviously that ensemble was gorgeous, but there just is something about the mint green floaty dress and pink straw cloche hat she wore this past season that I love so much more. So I decided to put my Blair foot forward and dress up as close as I could to that look today.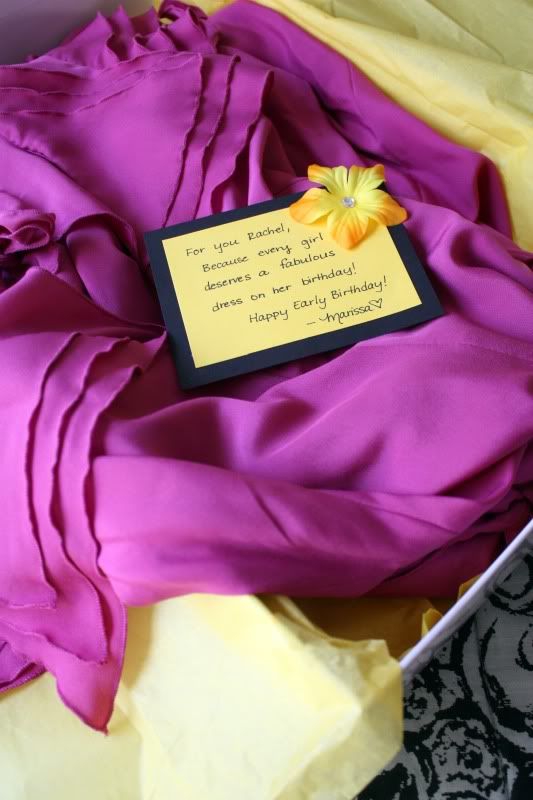 My friend Marissa gave me this dress from Target's Zac Posen collection as an early birthday gift. I absolutely love the dress box and the little card she wrapped it with. I had tried on the dress before and fell in love with the layered fluttery sleeves, narrow waist, and bias ruffles in the skirt. The dress I received is actually a size bigger than what I needed (and now its sold out in stores) so I cinched the waist with a stretchy belt, added a simple clutch and topped it off with a black cloche hat that Dee gave me for Christmas. This post is pretty much a shout out and thanks to both of my friends for being awesome.
Rach:]