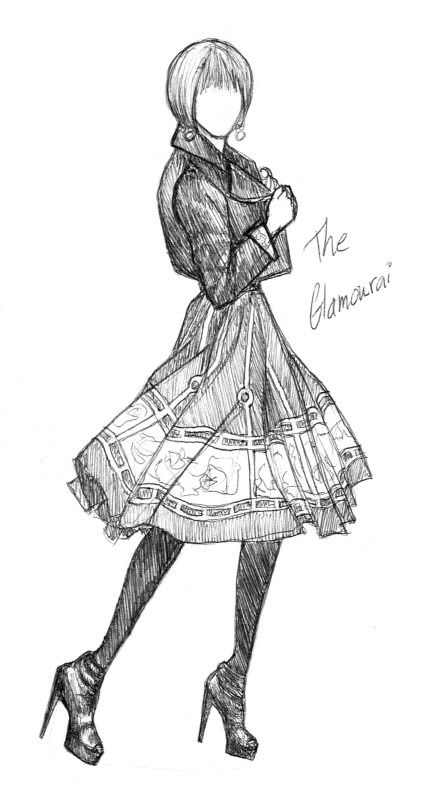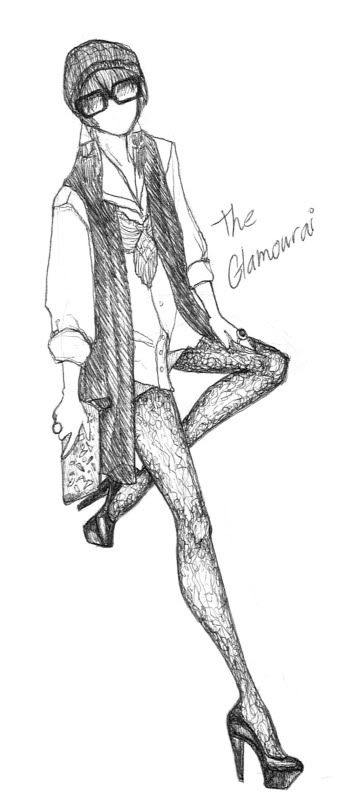 Hey there you guys! Its the Thirteenth edition of
Blogger Sketch Sunday
. This week's edition features Kelly of
The Glamourai
.
3 Reasons I love this blog:
-Kelly's style is completely eclectic. I have never seen anyone with style like her. Her 'mixology' works so well on her. Even though no one would dare clash loud prints and gauzy shapes with clunky heels and bold vintage jewelry, this blogger does. She rocks this look that no one else could. Kelly is fearless when it comes to fashion and she inspires me to wear what I feel is beautiful and throw everyone else's opinions to the wind.
-She makes her own jewelry that she sells. Kelly's shop is filled with amazing creations that you couldn't find anywhere else. I enjoy looking through her store because you can really tell what she is currently inspired by in her inventory. I've been keeping an eye out for a necklace of clustered chains, jewels, and lapis stones like a piece I found in her shop, but nothing seems to match up.
-Her blog boasts the most stunning vintage finds. From the gorgeous flowy dresses to the quirky sunglasses to the chunky jewelry, I love seeing how she incorporates items that not many people and pull off into her outfits and inevitably look chic.
If you've never seen her blog, which I'm sure is highly unlikely, you should go check it out at the link I placed above where I named her blog.
I'll be honest, this post is actually being written on a Tuesday because I've been busy with starting school and ongoing family issues, but I still aim to keep up this weekly tradition. Sketching and posting these is mainly for myself, so I can be driven to sketch regularly and stay inspired.
Rach:]