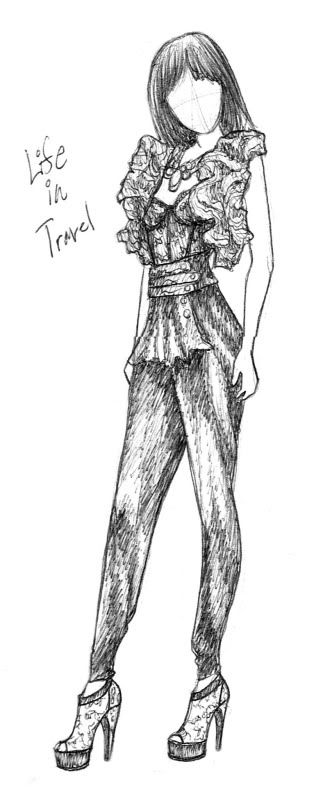 Hello there! Welcome to the Twelfth edition of
Blogger Sketch Sunday
! Each week I like to post a few doodles of bloggers that inspire me. This week's edition features Hanh of
Life in Travel
whose blog is located in Dallas, TX.
3 Reasons I love this blog:
-As her blog name would imply, Hanh's blog displays gorgeous photos from all over the world of sites I could only dream of seeing one day. Looking through her blog is my portal to the outside world beyond my modest college town horizons. I'm determined one day to visit at least a fourth of the places she has seen and documented on her blog.
-I could only wish to have style as fearless at Hanh when I grow up. Most people in society think that when you are a mother of two you can't dress very stylishly or bold, but Hanh breaks the mold. I think those types of rules are outdated, enforced only by other women who are jealous and just don't want others to shine. And Hanh, with her edgy black dresses, killer shoes, and fierce leggings, definitely shines.
-Speaking of her two daughters, they are absolutely adorable! I mean seriously, I'm not a huge fan of children (even though they seem to love me, probably because they think I'm one of them due to my height) but Hanh's two girls are just too cute. They definitely inherited their mother's unique, savvy sense of style.
If you've never seen her blog, you must go check it out. I've posted the link to it where I named her blog above.
I considered not having a Blogger Sketch Sunday this week due to all of the recent events that have been happening in my life and due to the fact that today, August 22 I turn 21. Yep.
Its my BIRTHDAY today!
I'd be really excited about my age if I hadn't been mistaken for a 12 year old last week.
Usually I am over focused on material things this time of year, but my lack of money and current situations has led me to a kind of apathetic feeling towards buying things now. This year all I'm wishing for is a day with my family and friends and a fast recovery for someone very much loved.

Rach:]