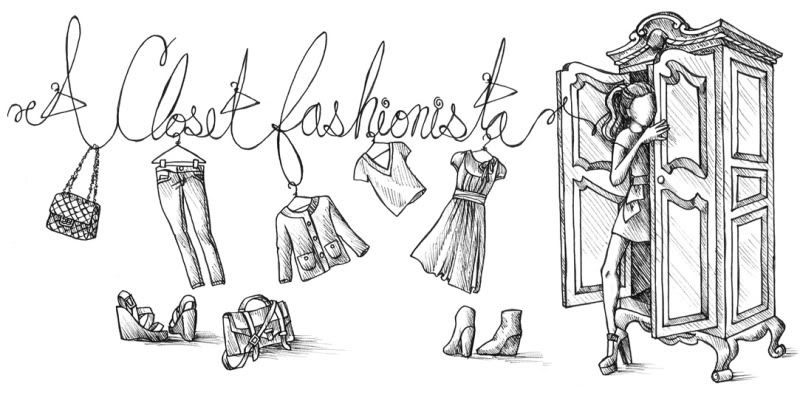 Hey there its the Fourteenth edition of
Blogger Sketch Sunday
. Usually I post a few sketches of a blogger that inspires me. This week however I'm featuring Megan, a blogger who commissioned me for a blog header for her amazing blog,
A Closet Fashionista
.
3 Reasons I love this blog:
-Megan is a recent Graphic Design major with a dream of working at Vogue one day. I love people who dream big and aim high. Its inspiring to see someone figure out what deep down inside they want to do with their lives and go for it. More often then not, the average person just gets caught up in making ends meet, fulfilling expectations, or simply giving up. I really hope that Megan keeps pursuing her goal because I know anything is possible if you have the passion for it.
-Every week, Megan ranks the looks created in the most recent episode of Project Runway. I love this aspect about blogging. That you can hear other people's opinions on a show or competition from someone other than the judges. Its much better reading Megan's intelligent observations than the obnoxious Youtube comments from people who clearly don't understand grammar. You know what I'm talking about.
-This blogger also does requests for "Dress for Less" posts where she finds cheaper alternatives for people based on what look they are going for and their budget limit. I think this is positively ingenious. As someone who frequently online window shops myself, I start to take note of items that looks similar at different price points across the web. Not everyone is as much of a procrastinator as I am and they don't have that much time to look around. For them, Megan does the generous work of finding the same look at a lower price point.
So if you're thinking of requesting a "Dress for Less" yourself or you've simply never come across her blog you should go check it out. The link it located where I first named her blog.
And to any of you guys who are deliberating commissioning a blog header, don't be afraid to email me!
We can discuss style, price point, and subject matter. I'm pretty flexible when it comes to ideas, but I love it when people are open to whatever and I can take creative license. I'm just full of ideas and you won't be disappointed.
For Megan's header, all she requested was herself coming out of a closet and that her favorite clothes be incorporated into the design. She liked the look of "The Lion the Witch and the Wardrobe" so I decided to so with a Victorian wardrobe that looks like it could lead to Narnia. I drew Megan stepping out from behind the door in clothes she just ordered from Forever21 (the pencil skirt and the miu miu-like mary-janes). Behind her a clothes line shoots out to spell the title of her blog with her favorite clothes hanging from the letters on clothes hangers. It was really fun to do this and I'm super glad she was happy with the result.
Rach:]