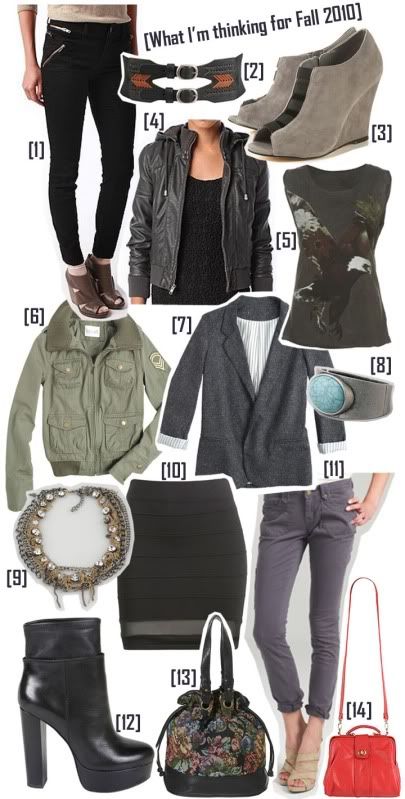 [1] Black Jean Leggings:
Urban Outfitters
[2] Woven Leather Belt:
Forever21
[3] Gray Suede Wedges:
Topshop
[4] Hooded Leather Jacket:
Urban Outfitters
[5] Graphic Tee:
Topshop
[6] Military Bomber Jacket:
Delia's
[7] Tweed Gray Blazer:
Delia's
[8] Turquoise Cuff:
Charlotte Russe
[9] Chain Rhinestone Necklace:
Charlotte Russe
[10] Black Bandage Skirt:
Arden B
[11] Cargo Skinny Jeans:
Forever21
[12] Chunky Platform Ankle Boots:
Steve Madden
[13] Carpet Bag Floral Purse:
Topshop
[14] Red Leather Bag:
Forever21
So I know its already September and here in Texas, the heat is still in full force, but I'm looking forward to breezier crisper weather already. Honestly I'm more of a Fall/Winter season sort of person. The only thing I love about Summer fashion is being able to wear my many many pairs of homemade jean cutoffs. But colder weather opens up all sorts of possibilities clothes-wise.
This Fall I'm hoping to dress in grungy yet polished attire. Think monochromatic grays, leather, dainty chains, army twill, and earthy stones. My main focus is to keep an eye out for a well-cut pair of black skinny jeans and a sharp gray blazer. I also might try out a sleek black bandage skirt or a rugged military jacket. And to add some special touches; I'm looking for a vintage carpet bag, the chunkiest pair of boots, and an authentic turquoise cuff.
Of course with a change of seasons comes a closet clean out as well. I always keep my closet pretty pared down and functional, so I thought I'd share a few tips on how to keep your wardrobe at its best.
How to Keep Your Closet Uncluttered:
1. Change Seasons
I don't have a lot of room in my closet, being a college student living in a small student living apartment, so whenever the seasons change I have to pack up last season's clothes and bring them back home until next year. This means that coats and heavy sweaters aren't taking up space in the summer and that cut-off shorts and sandals aren't taking up space in the winter. If you aren't going to wear it in the next month, pack it away. This is a good basic habit to get into.
2. Keep it Light
In addition to having a small apartment space, I also move apartments very frequently. So whenever I move, I lighten the load I have to transfer to my new place by leaving behind clothes I know I don't wear anymore. And when I say leave behind, I actually mean try to give to my younger sister or donate to charity.
3. Be Picky
Sounds like a simple process right? But getting rid of things you don't wear anymore, as every girl knows, is harder than it seems. When going through all that you own, ask yourself 'Does it fit me oddly now because it has shrunk/been stretched?' 'Do I not wear it anymore because it makes me feel uncomfortable?' 'Has my style completely changed and it no longer suits me?'. If any of the answers to these questions are a 'yes' then out it goes.
4. Let Go
This a very sensitive subject for most girls, but don't keep clothes around that you can't fit into anymore. I will never understand why people keep 'skinny jeans' around that they fantasize about wearing. When I can't fit into a pair of jeans anymore I throw them out. It is emotional baggage to keep things that used to fit you. You will always see it in the corner of your eye when you get dressed in the morning, and who needs that much of a downer everyday? Let it go and move forward. If you want to be that size that you used to be, you will be more likely to succeed without the pressure of those 'skinny jeans' looming over you. Self confidence is priceless. You can go buy another pair of jeans.
5. Fix It's
On the other hand, set aside a box outside of your closet for items that you don't want to give away and can still fix. By this I mean that gorgeous dress you've got that has an unraveling hem. That amazing jacket that some jerk spilled beer on. Or that cardigan that got snagged on a tree branch. Keep them, but keep them separate from your functional wear. A hem can be sewn, a stain can get taken out, and a snag can be fixed with some thread.
6. DIY's
If you are like me, you tend to thrift things that you aim to alter yourself in someway before you actually wear. Set aside a box of Do It Yourself projects (next to your box of fix it's of course) to keep all of these items separate from your closet. If you mix DIY items with the rest of your wardrobe you will lose track of or forget about the DIY projects you were so amped about.
7. Shop Wisely
Sometimes the trick to having an effective wardrobe is being an effective shopper. It sounds obvious, but investing in timeless basics will take your closet so much further. When I buy a new piece of clothing I make sure that the only reason I wouldn't wear it 3 years from now is if it didn't fit anymore. This means that its better to have an array of white or black tees and tanks, dark flattering jeans, and a solid wool peacoat than thousands and thousands of trendy items. Coco Chanel said it best herself,
"Fashion fades, only style remains the same."
8. Keep It In Order
Organization is really key to every well functioning system. I'm not saying you should have your entire closet color-coded and alphabetized by designer, but separating tees from blouses from sweaters will go a long way. Group things by style and locate them closer to the front of your closet based on how often you wear them. All wide-legged jeans go together, then flared jeans, then skinny and then bootcut. This order is pretty much how much I wear them, boot-cut being the most and at the front of my closet and wide-legged being the least and at the back. You just need to find a system that works for you.
I hope these tips have helped you in some way and didn't just repeat a bunch of information you already knew. Personally I love organizing my closet, I always get to regain valuable closet space. It gives me a clear idea of what I have and what I'm missing so I won't keep making the same shopping mistakes.
Rach:]