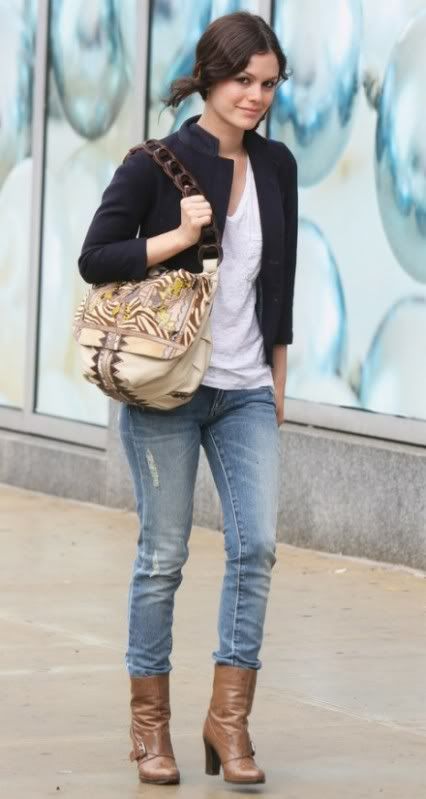 There are actually very very few celebrities whose style that I like. I just don't get the fascination with celebrity style when in reality most celebrities just throw on whatever their stylists decide for them. In my opinion all of you bloggers out there with your own unique and remarkable outfits are much better inspirations.

There is however, one celebrity whose personal style always inspires me and that is Rachel Bilson. Best known for her role as Summer on the television series The OC, she has always been someone whose fashion sense I admire. There is something so effortlessly chic about the clothes she throws on during an average day. Even though most celebrities are known for their special event looks, I think Rachel Bilson shines more on the sidewalks than the red carpet. There is just something about her everyday street style that I love. I've collected quite a few images of her day to day wear, so I thought I'd put together a guide on
how to get Rachel Bilson's street style
.
Elements of Rachel Bilson's Street Style:
1. All Styles of Pants
While most women tend to stick to one cut of pants that they know flatters them, Rachel experiments with all sorts of styles. She is fearless when it comes to the cut of her jeans. One day she will be rocking really skinny cut jeans only to flip completely the next day to wear a wide-legged pair. Other days it could be a flared, boyfriend, or trouser styled pair of bottoms. No matter what cut she works, she always makes sure to balance her silhouette with the right top and heels.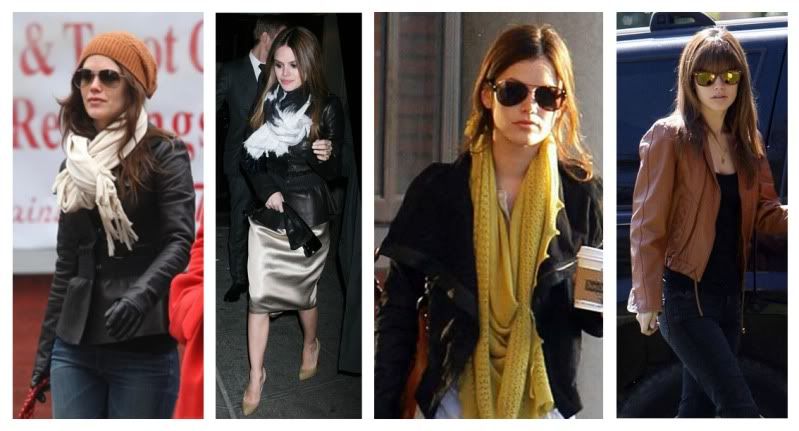 2. Leather Jackets
I absolutely love leather jackets, but many people assume that they only work for the tough biker chick look. Rachel proves that a well cut leather jacket can be incorporated into any outfit. She tends to use them to tailor her look and streamline her shape. The jackets are used as an element of polish instead of grunge as they are normally worn.
3. Quality Neutrals
Many people underestimate the value of plain quality neutrals in their daily wear. People are so easy to over do it in attempts to be trendy by piling on as many busy separates as possible. Rachel proves that simple jeans, tees, and cardigans are easy and effortless to wear. She knows that it is better to look chic and understated rather than gaudy and over-the-top.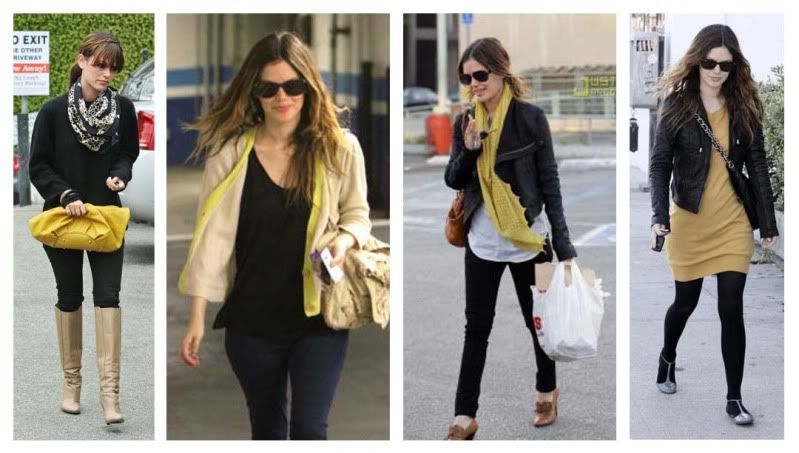 4. Yellow and Black
When Rachel does wear color, her favorite color combination is yellow and black. Which also happens to be my favorite color pair. The black is so simple and versatile while the yellow gives an unexpected pop. It automatically lightens the look and keeps the outfit from looking too dark.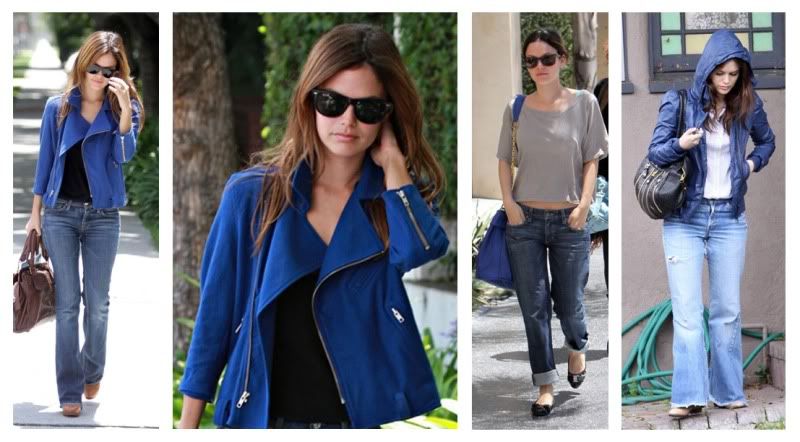 5. Cobalt Blue
Also one of my favorite colors, Rachel frequently accents her ensembles with touches of this hue of blue. Its the perfect shade to work with because it gives plain basic jeans and tees a little kick. This color catches the eye more than a navy or sky blue would, but still keeps that calming feeling all blues have.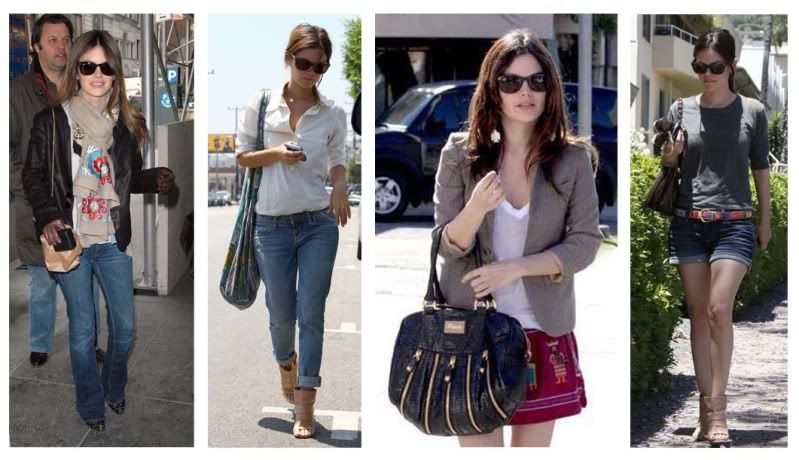 6. Ethnic Details
When it comes to adding a bit of a unique touch to her outfits, Rachel always turns to ethnic details to give her look some interest. Whether is is an embroidered scarf or skirt or a woven bag or belt, the foreign elements lend something out of the box to her ensemble.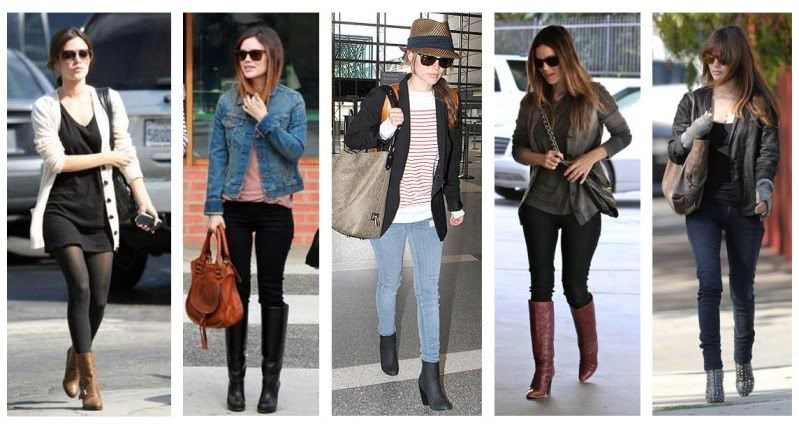 7. Boots, Boots, Boots
Rachel seems to have an array of boots that she wears frequently. But you won't find any stiletto heels or pointy toes in her collection. She always opts for chunky heeled and rounded toe boots. Rachel works them at ankle, calf, or knee height, but they are always made of leather. Her boots give her outfits a more grounded rugged feel. They add an element of toughness without taking away from chicness.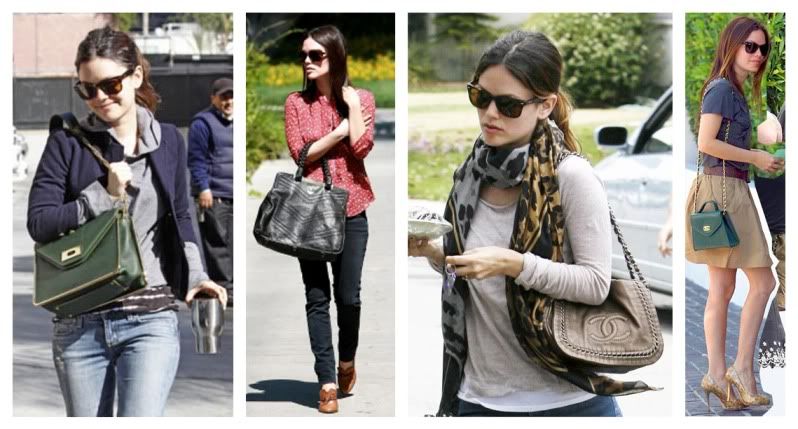 8. Vintage Style Bags
Rachel tends to carry purses that have a vintage detail such as a chain strap, structured shape, or metal accents. Many times she seen to have a Chanel 2.55 hanging from her arm or a bag with a similar shape. These bags give her outfit a more polished retro edge.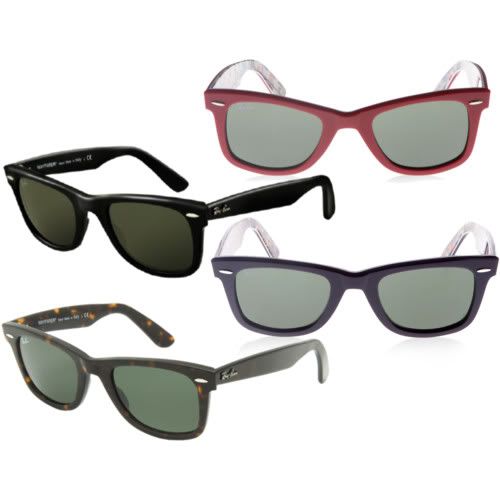 9. Wayfarers
Almost everywhere, Rachel is seen rocking these classic and timeless framed sunglasses. Not only do they flatter her face, they are super versatile and go effortlessly well with anything she wears. She owns a few basic black and tortoise pairs, but she also has a bold red framed pair from Ray Ban and a unique green framed pair from Chanel.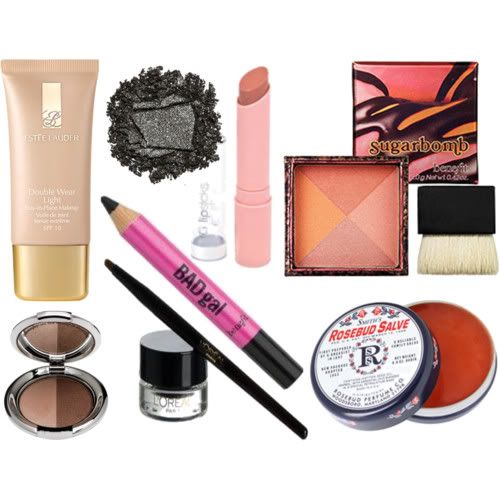 10. Beachy Natural Makeup and Easy Undone Hair
Rachel Bilson is through and through a very laid back California girl when it comes to her hair and make up. She doesn't ever pile on the heavy foundation, deep lipstick, or glitzy eye-shadow. To get a natural look like hers, I would suggest restricting yourself to a sheer tinted skin moisturizer, peachy blush, kohl pencil eyeliner, and a light lip balm. Rachel wears so little makeup most of the time, it doesn't even look like she is wearing any at all. The only thing she ever plays up are her dark eyes with a little smudgy black eyeliner.
For her hair, Rachel is never seen with super tight unnatural curls or dramatic over-done do's. While in her OC days, Summer would always have perfectly straightened hair, but now Rachel relies more on the natural texture of her hair. To mimic her hair I would suggest getting long layers cut into your hair if you don't have them already and style it with just a blow dryer and a round bristled hairbrush.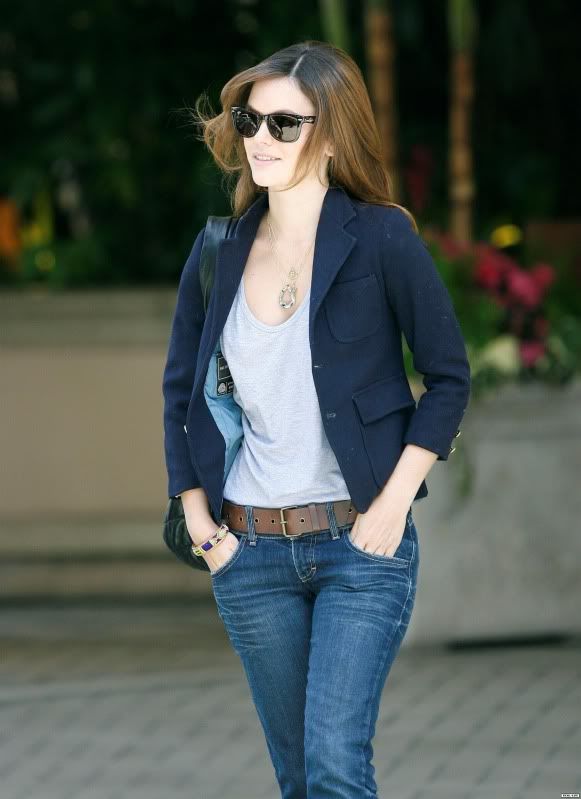 Sometimes it seems like Rachel Bilson's street style is so close to my own personal style that I can't decipher what elements were inspired from her and which are from my own experiences. Either way, I love this girl's style. If I could have any celebrity's closet I would choose her's over any other celebrity's red carpet wardrobe full of glitzy uncomfortable gowns any day.

I hope this style guide has inspired your style a bit and of course, was fun to read too. And I'd like to know, whose personal style inspires you?

Rach:]


[Sources: http://rachel-b.org/
http://rachel-bilson.net/]