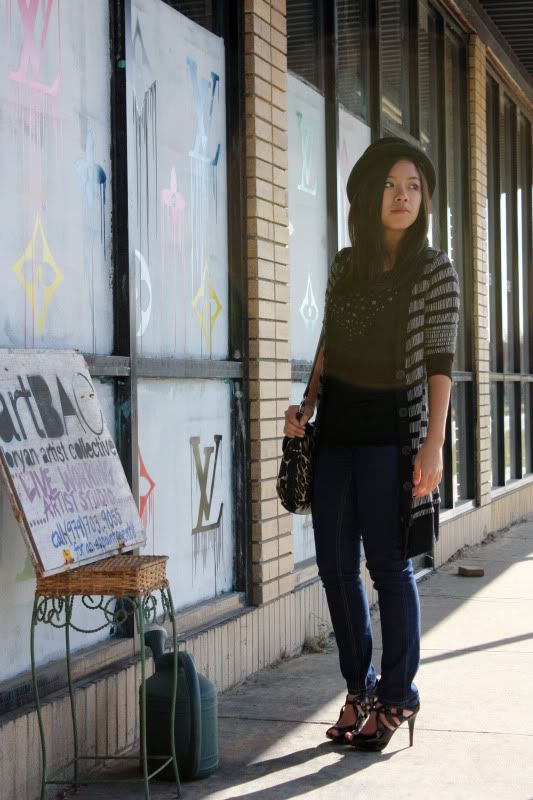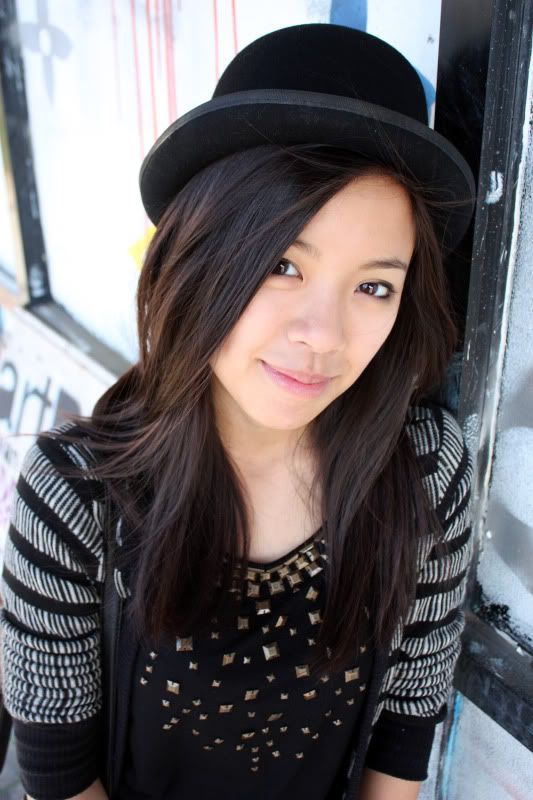 [Cardigan, studded top, and bowler hat: Forever21, Jeans: Macy's, Purse: Target, Heels: Plato's Closet]
Good golly, is been a crazy week. Today was the VIST show where all of the undergrad Visualization students have their work displayed. I pretty much didn't ever sleep for a week before finishing my final animation and then 2 nights later, pulled another all nighter for a color film photography series I had in the show. I plan on posting my animation here soon so watch out for it! My photography project won't be up until I can get my prints back from the show.
Needless to say, I have been a terrible blogger and have neglected my blogging responsibilities. So if I haven't responded to comments or new followers, please have patience with me! And I also received a blogger award and was tagged in a '7 Things About Me' post that I haven't had time to pass on forward. But given some time, I'll organize a post to make up for all my slacking off.
On the plus side, the show is over and now its time for finals. The more normal part of being a college student. For outfit number eleven, I went back to my loyal skinnies again. These have been worn so much, I'm afraid they'll give out soon. I got them off the Macy's clearance rack so they are some obscure, un-findable brand.
Oh and I need to give long over-due credit to the people who support me and my blog the most. All of the photos on my blog that don't include me in the shot (ie. food, places, and projects I clearly state are my own) are my own photography. But if I am in the photo, it was taken by either my boyfriend or my best friend. With an exception for a few that are taken with a timer, they deserve most of the credit. Brandon takes most of the photos that you see recently and Dee took all of the photos before the beginning of this past summer. I have to thank them for their patience of dealing with me and my outfit complications, backdrop seeking adventures, and frustrating awkward faces.
Thanks guys, you are the best!
Rach:]