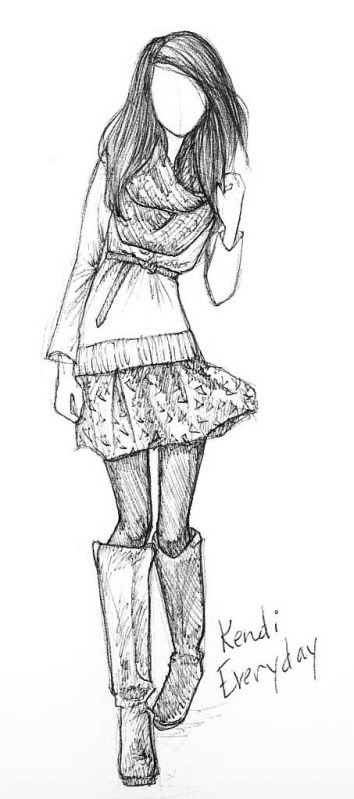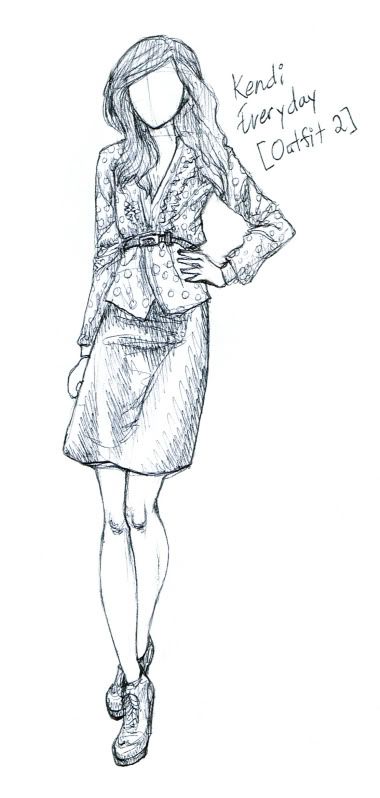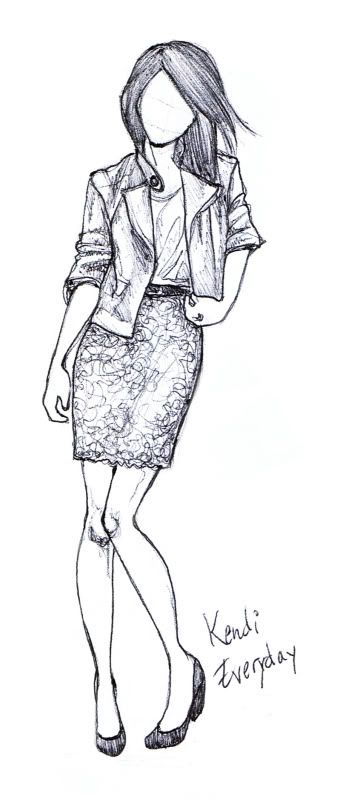 Hey guys! Its been too long since I've done this. This is the Twenty-eighth edition of
Blogger Sketch Sunday
! This week's post features Kendi of
Kendi Everyday
whose blog is located in Austin, TX.
3 Reasons I love this blog:
-Kendi has to be the most down to earth fashion blogger out there. She has an amazing sense of humor that keeps you reading her blog for more than just the pictures. I admire her ability to laugh at herself. She posts outtakes from her outfit photo shoots, which always make me feel better. They show me that even gorgeous girls like Kendi have a few funny moments in front of the camera. She is a relief from all of the overly-serious high-fashion photo shoots of other bloggers.
-Her style is a mix of lady-like grace and laid back polish. She either goes full on feminine charm with pencil skirts, detailed blouses, and girly jewelry or sharp masculine with trouser pants, fitted blazers, and sleek heels. Its all about simple versatile pieces with quirky details.
-As one of the members on her last 30 for 30 challenge (at least attempted member, I only got to outfit eleven, for shame) I think her way of remixing items into different outfits is ingenious. Its great to finally see someone in the fashion blogosphere who works with a set amount of reasonably priced items and never fails to look like a million bucks. Kendi proves that your style depends on your brain, not on your wallet. So put away the credit cards and use that noggin to remix a few fabulous new outfits from what you've already got!
If you want a break from the monotonous serious-ness of overly-chic fashion blogs, check out her fun, lively, and stylish blog! I've put the link where I named her blog above.
This is the first Blogger Sketch Sunday I am posting from my new home in Germany. I'll be here for 4 months and a scanner is less accessible for me here. I want to try to keep up my weekly tradition, but it may be too difficult to maintain. But I'll be sure to tell you guys what happens and tune in soon for my first Germany-update post!
Rach:]