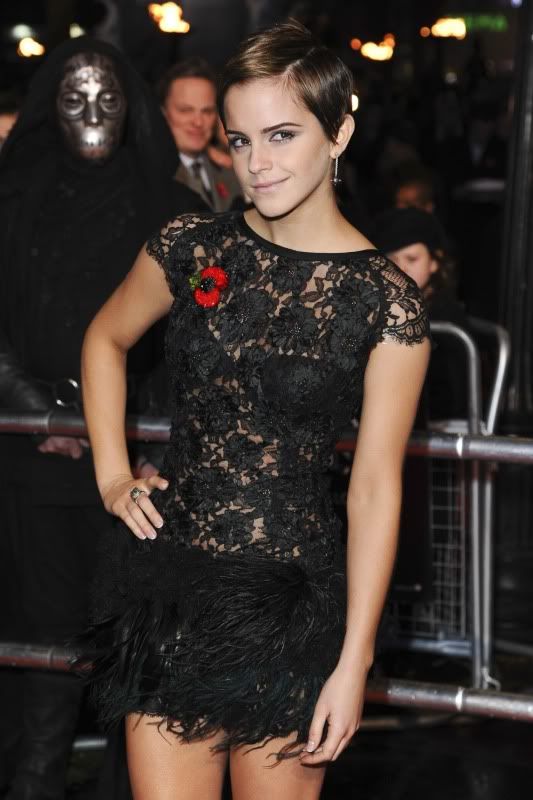 You may know her as Hermione, but lately Emma Watson has taken the muggle fashion world by storm. Upon promoting the recently released Part One of the 7th movie in the Harry Potter franchise, Emma has been on the press junket looking fiercer than ever. I've actually always been a fan of Emma's style since middle school,even before she become a recognized 'style icon'. Emma's style has evolved so much since the
Marc Jacobs military jacket
and Chanel earrings she wore promoting Harry Potter and the Prisoner of Azkaban on TRL. If any of you guys even remember TRL...
Any ways, since then, Emma has become a fashion maven. Being photographed with Chanel's Karl Lagerfeld, becoming the face of Burberry and reportedly collaborating with
Alberta Ferretti
for their own line. She has really grown into her own since of style, which is why I've decided to write this
Guide to Dressing like Emma Watson: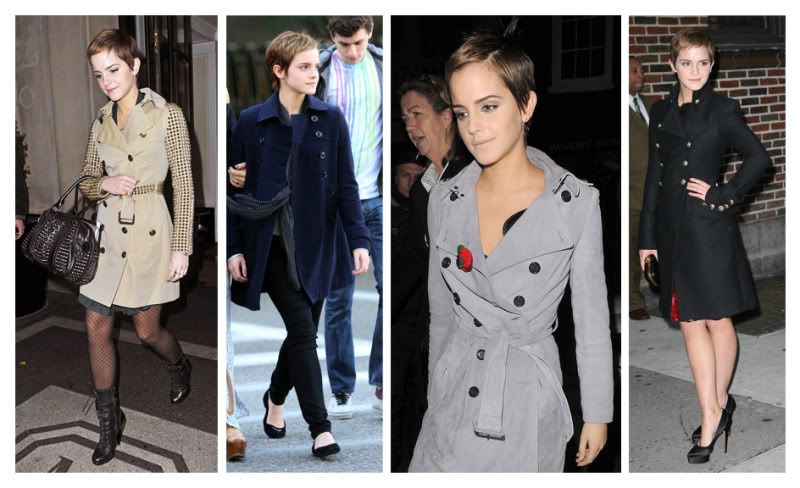 1. Trenchcoats
For the face representing Burberry, this one is pretty obvious. Emma has quite the collection of sleek and polished trenchcoats thanks to the fashion powerhouse. She always looks chic and put together, wrapping them over every outfit she wears. Their double-breasted lapel, figure flattering cut, and simple design never fails to look fabulous. If you like Emma's style, a great starting point would be to go out and buy your own trenchcoat to act as the base of your winter wardrobe. Emma has a few spectacular trenches from Burberry with studded details or leather sleeves. I suggest buying a simple trench coat in a solid neutral color to go with everything first, and then go out and buy a trench that has a little something extra for special occasions.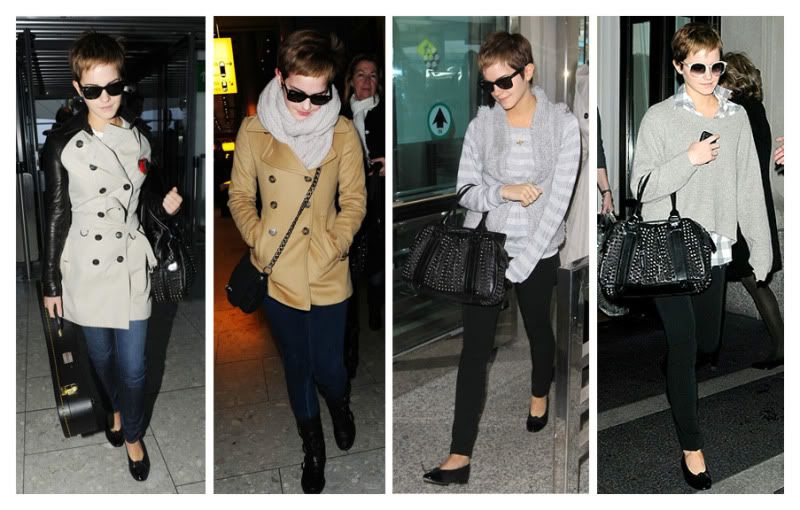 2. Ray Bans and Skinny Jeans
A huge aspect of Emma's look is KEEPING IT SIMPLE. Her most stylish outfits are made of clean and well fitted basics. A common formula in Emma's wardrobe is the skinny jeans+trenchcoat+Ray Bans combination. Think classic and timeless like Audrey Hepburn. Emma always sticks to neutrals because she knows they always work together and never cease to look chic. Think gray layering knits, dark wash skinnies, black flats or boots, and camel coats. The accessories is where Emma packs the pow factor. Her relaxed Ray Bans and mega-studded bag adds a cool, rebel-edge to her look without being overpowering.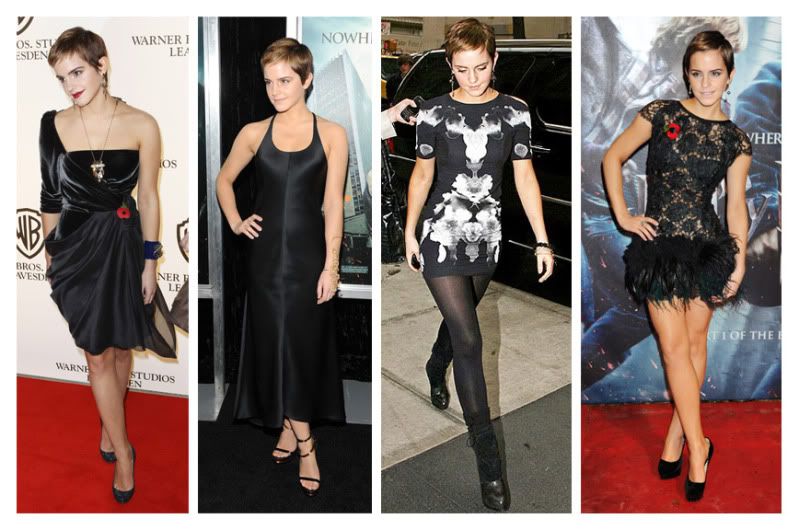 3. LBD Gone Bad
Emma knows the power of a little black dress. But she also knows how to put her own spin on it. This is just another example of a classic that she does her way. Whether its one shouldered, long and dramatic, has a Freudian skeletal-like print on it, or a hem line all the way up to there, Emma shows her fearlessness in the face of fashion. If you like Emma's style, for your next special occasion, pick up a little black dress that is anything but basic. A LBD is always appropriate and by choosing one with a dramatic element, you'll be sure to stand out from the pack.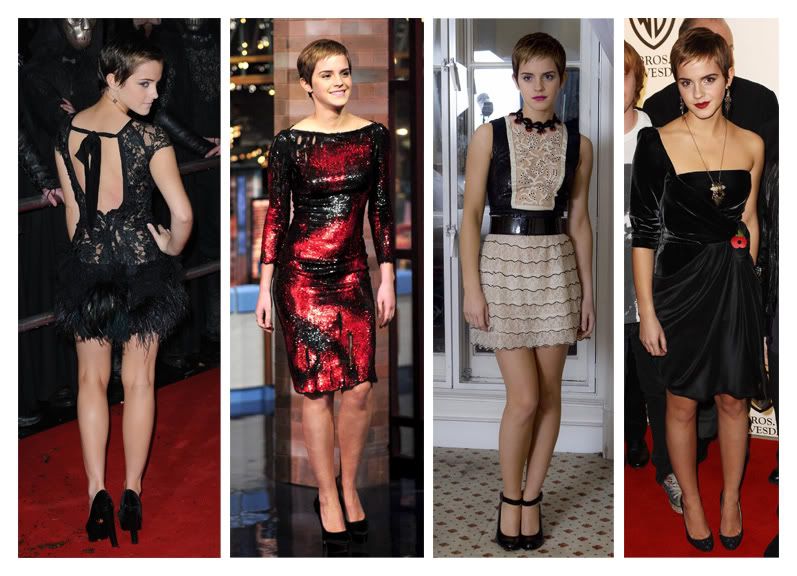 4. Classic Silhouettes and Quirky Textures
Textures are really in this fall/winter season and Emma has definitely picked up on that. She indulges in this trend but still remains classic by wearing dresses with a quirky material in a simple shape. If she wears a piece made completely of sparkly sequins, its is a more conservative long sleeved sheath dress cut. Although her dresses have a simple silhouette, their lace, velvet, feathers, and glitter keep things from getting boring. And while Emma's streetstyle tends to revolve around neutrals like beige and gray, her red carpet palette is always black and red.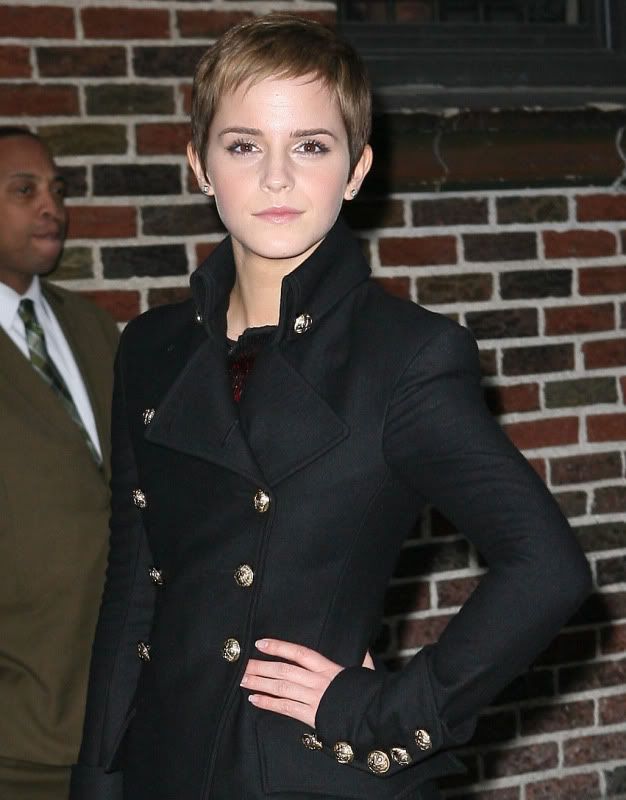 The most important aspect of Emma's style is the DRAMA. Everything she wears is sharp and awe inspiring. She has got casually polished and laid back perfection down to a tee. What her style comes down to isn't what she puts on. Its her confident and daring attitude that shines through. She is simple but not boring. Edgy but not cliche. Classic but not unoriginal. Emma's style has toned down since her
vintage '20s frock
wearing days, but it still packs quite a punch.
Alright so you know I have to mention this. Emma's new haircut. While I loved her hair longer a la her Burberry Campaign photos, I admire her fearlessness with her new pixie cut. Its very Mia Farrow. She reportedly cut it because she wanted to do something dramatic upon finishing filming the last Harry Potter installment. I think with the 12+ inches of hair she lost, she also shed her beachy-girl-next-door look. Her short hair allows her to pull off much more haute-couture looks. She probably won't keep this cut for forever, but for now its the perfect confidence boosting and previous-public-image shattering 'do.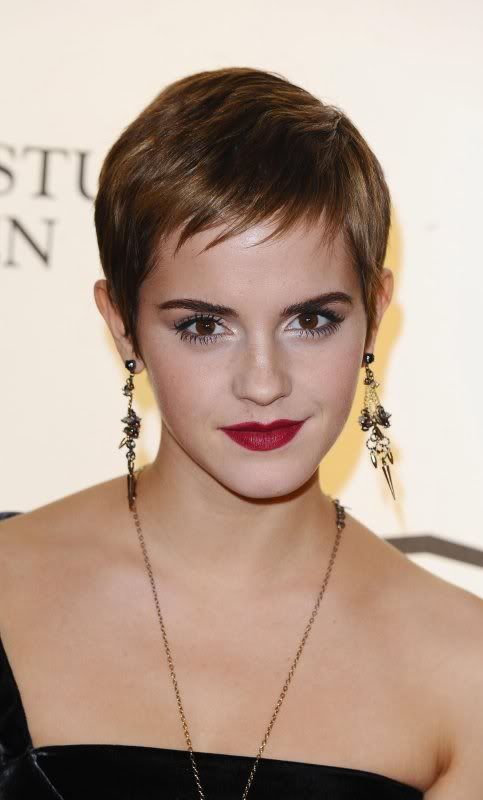 Because Emma's hair is so minimal now, she can pull off more dramatic make-up and heavy jewelry. While the old Emma would sport a tan glow and nude lips, this Emma puts the petal to the metal with lush dark lashes and bold red lipstick. The trick to wearing make-up like this without letting it overpower you is to tone down everything else.
-If you have long hair, pull it back and out of the way in a sleek up 'do.
-Even out any skin discoloration with a sheer tinted foundation.
-Lay off the powder, this look isn't cakey.
-Apply concealer to any spots and underneath the eyes to brighten them up.
-Sweep a sparkly nude colored shadow over the lids and in the inner corner of the eyes to add some sparkle.
-Take a clear mascara and comb thick eyebrows into place.
-Line the top lashes with a liquid eyeliner.
-Curl top lashes and brush a volumizing mascara through top and lower lashes.
-Run concealer lightly around your lips.
-Carefully apply red lipstick with a brush, not from the tube, to get perfect edges without the heavy build up.
-Finish with faint blush, be careful not to apply too much.
Find your own spike-like rocker earrings and you are set!
If you are a fan of Emma's style like I am, I hope this style guide has helped you pinpoint her style more and has inspired you to go out and take a few cues from her yourself. Stay tuned, my next post will have a few outfits I've put together inspired by Emma Watson.
Thanks for reading!
Rach:]
A Great Emma Watson style site to check out:
Sassy!