A few days ago a trip to Dusseldorf turned into a full girl's day out. It was a much needed indulgence into girly-ness though, since I haven't gone shopping since first arriving in Germany. Three friends from school and myself bought train tickets to Dusseldorf, which is a city located on the opposite side of the river from Cologne. Where as Cologne is more gritty and historic, known more for their bars, pubs, and the Cathedral; Dusseldorf apparently is known for their fashion forward dwellers and plethora of trendy shops. And we weren't disappointed at all when we got there. Somehow we found the shopping district from the train station pretty easily and it was nice to be able to take our time in the stores without any boys getting impatient with us. Downtown Dusseldorf reminded me a lot of San Francisco, or at least a German version of it.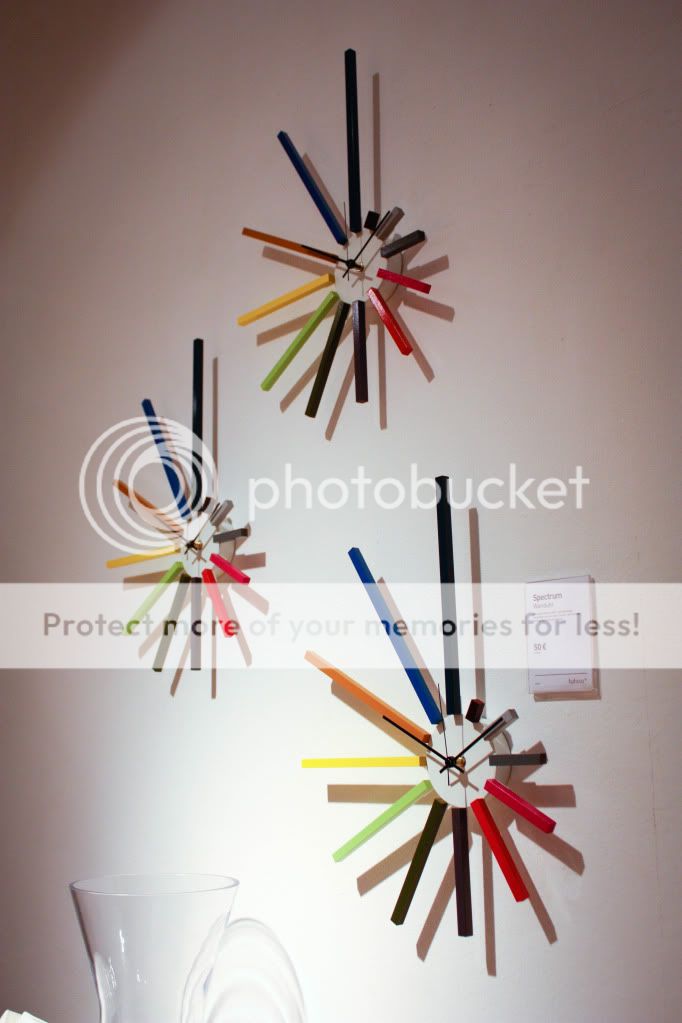 Our first stop was this super awesome interior design store called
Habitat
. I have absolutely no eye for actually putting together a chic looking room, but I'm always enthralled by modern decor. If I were rich I'd buy lots and lots of pieces from this place. Its like IKEA on crack. But knowing me, I'd have no idea how to utilize all of it once I got it all home.
I really liked these wall clocks I found. They remind me of the Prismacolor Neupastels I used in art class in high school.
AH! I love love love black and yellow together! Its my favorite color combination. When I saw these displays I had to take a few photos.
I'm pretty sure this photo lurking from behind a fake plant is a little creepy. Sorry Stephanie.
I think Allison was saying we should get going. Or that these couches are really comfy.
This is the set up we were sitting at. If you remember my post about wanting a purple room, you probably know how much I loved this. Theres something about the shade of the purple couches and purple flowers.
Later we found this Beauty and Perfume shop called
Douglas
. Alyssa tried on a bunch of nail polishes and found a few really pretty purple and gray shades. These are photos of Essie nail polishes.
Obviously the shade of nail polish on my thumb is not the same as the color in the bottle. But I was caught up in how cute this small Chanel nail polish was, usually they come in those larger bottles. The polish on my thumb was from testing this Anny nail polish. They had super saturated colors and were pretty opaque, so one coat really did the job.
Picked up a nice free magazine from H&M, our next stop. I love H&M. And magazines. And free things. So this was the jackpot of my day.
Our last stop out shopping was a store called
Accessorize
. You can guess what they sold here. I can only describe it as an upscale Claire's. While Claire's is full of teeny-bopper rhinestones and punk-wanna-be wristbands, Accessorize has a more earthy, beachy, and glam flair.
Allison become enlightened that her color palette was gold, coral, and turquoise. Which the store was full of. But their items are far over priced. You could find pieces back in states like
this
,
this
,
this
or
this
for much cheaper.
Alyssa had a terrible headache all day unfortunately. I feel her pain, because I get frequent migraines a lot too. I feel like they are a combination of stress, too much sugar/caffeine, and crazy bus/train/tram rides. Alyssa turned into Professor Quirrel and used her scarf as a turban to add pressure and alleviate the pain.
Check out Stephanie's awesome Happy Hippo cookie we found in a convenience store. I love kinder-snacks here in Germany, even if they are meant for children.
We had a slight snag in our day towards the end of our trip. We bought the right ticket and took the correct train to Dusseldorf, but we caught the wrong one back. Since we've never bought tickets to anywhere but Cologne before, we forgot to check the type of train we had to get on. Apparently the train we took back (and waited 30 minutes more for because it was late) was a nicer train than the one we took to Dusseldorf. A man checking tickets got extremely upset with us and kept demanding "WAS IST DAS?!" when presented our ticket. He told us we needed to pay a fine of 200 euros for taking the wrong train when we got back to Bonn. Needless to say, when we arrived at the next stop, we swiftly dashed off the train and never looked back.
After that incident though we had a nice dinner of pasta and potato wedges in a restaurant back in Bonn. There a waiter (although I had the impression he was higher up and might be in management) offered us a job designing an advertisement for the restaurant and asked me if I was Chinese on at least 3 separate occasions. Sorry. I don't answer to 'Ni Hao'. I knew this would happen here in Germany. Its happened before when I went to Yosemite in California and was confronted by a multi-lingual Jehovah's witness. Thankfully he didn't speak Vietnamese.
I've been mistaken for Mexican back home, Turkish a few weeks ago, and now Chinese. Well. At least they are getting closer.
Rach:]