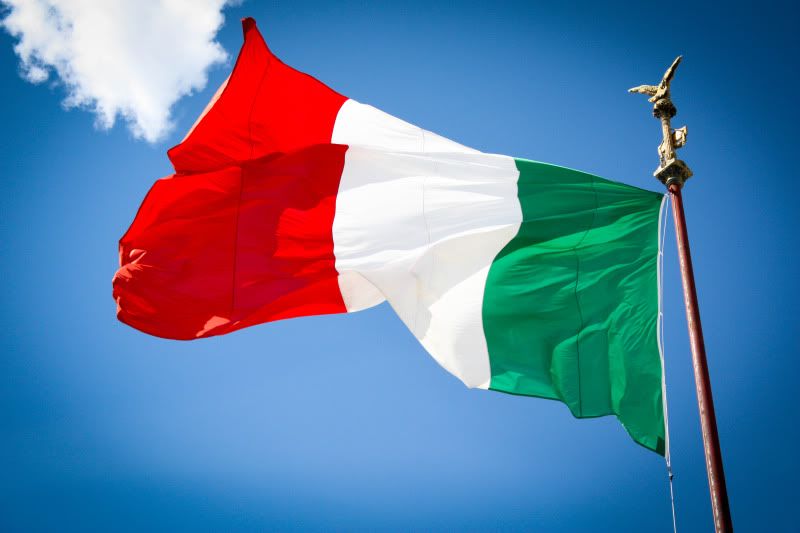 Our last stop in Italy was Rome. We saved the best for last! By this point in the week I was greatly anticipating greatness from Rome and I wasn't disappointed. We took a train in the afternoon from Florence to Rome and headed to our hostel upon arrival. My first impression of Rome was that it was unlike any other city we had seen in Italy so far. Quite honestly, it was unlike and city I've ever seen at all. Its a large busy place with modern businesses and city life right next to the most spectacular historical monuments. A lot of our time here was spent in disbelief. It was hard to comprehend that I was actually seeing these sights for real. They weren't some cheap replication. I was really standing next to thousand year old structures.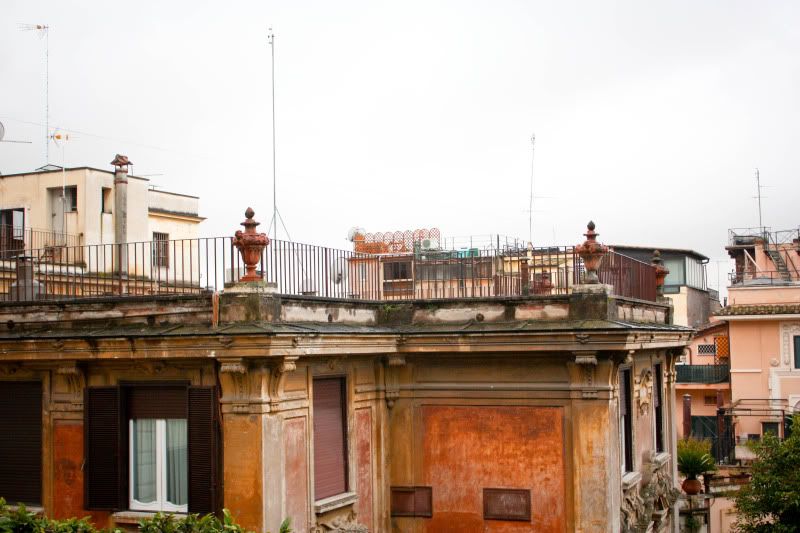 A prime example of our experience in Rome was the first day. It was pouring rain and although we meant to find a small fountain on our map, we completely missed and wound up at the Spanish Steps instead by accident. Even sadder fact, we didn't realize they were the Spanish Steps until the next day when I looked closer at the map.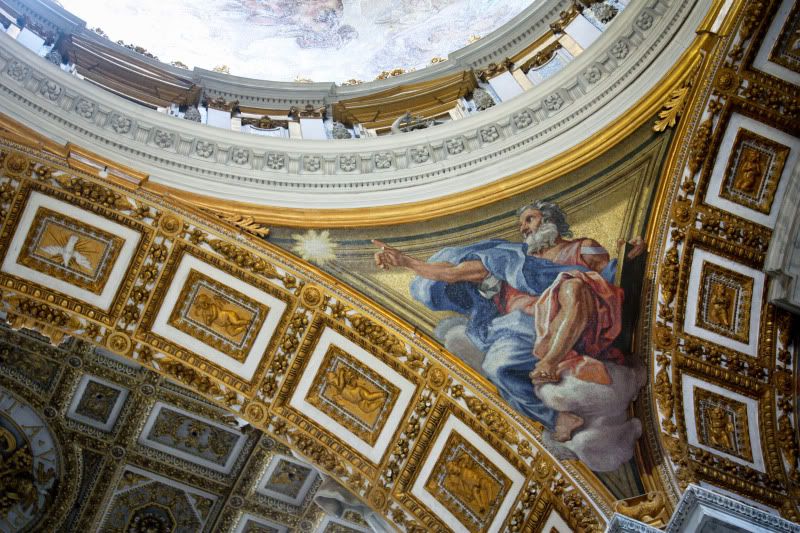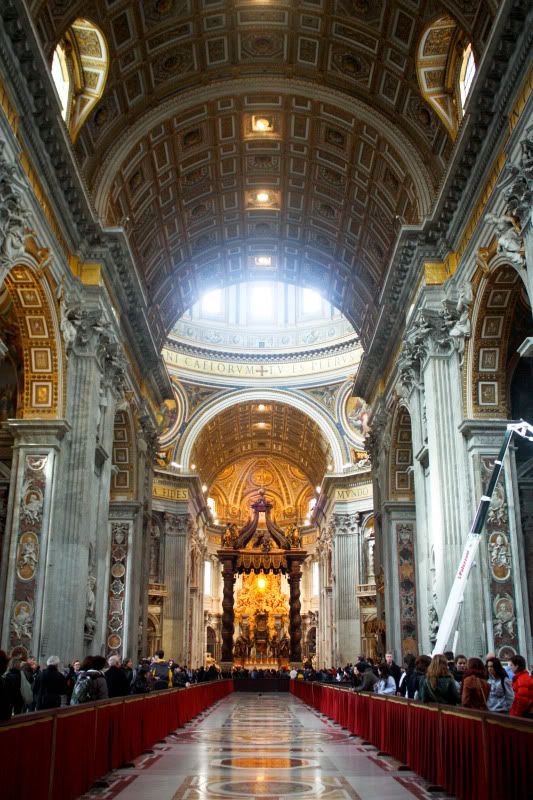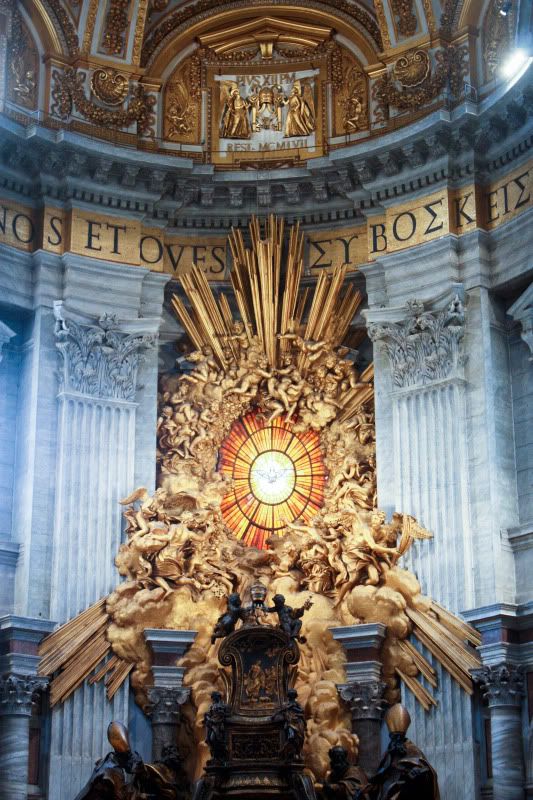 The highlight of my entire trip in Italy was seeing the Vatican. It was an amazing experience and probably something I will remember for the rest of my life. Its something else to be in the heart of the Catholic church. Every single square inch of the ceiling in the Vatican was covered with elaborate moldings or detailed paintings. It was unbelievable and overwhelming to soak it all in. Bernini's Canopy was an incredible sight to see, I've always been interested in its intricately carved cherub angels and leaves in the wood.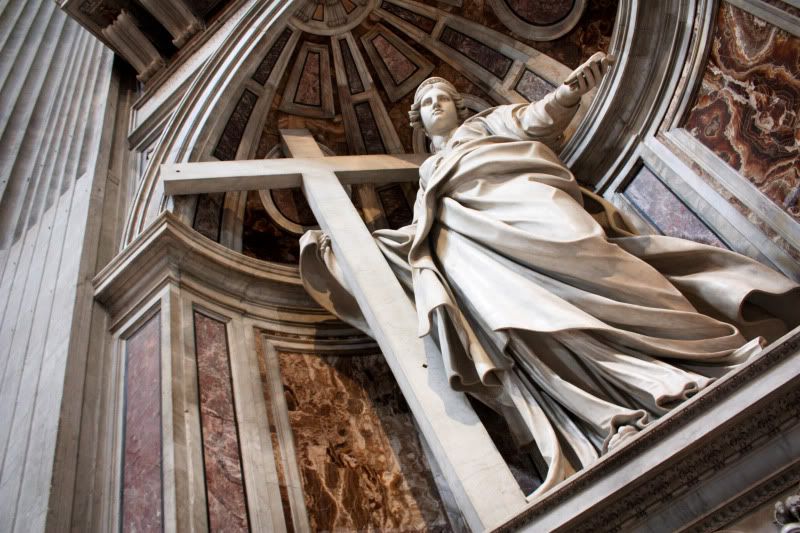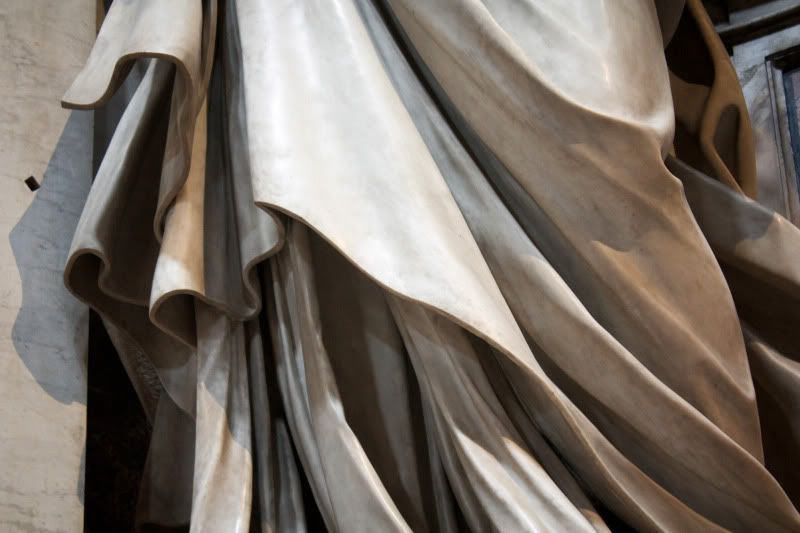 My only complaint about my time in the Vatican were the amount of tourists in the St. Peter's Basilica. It was hard to appreciate the beauty of the place with people constantly shoving you and blocking the view of sculptures and doorways. Fortunately there was a peaceful smaller chapel inside where photography was prohibited in. I got to spend about half an hour in prayer and thought, which was a great experience. I left the Vatican with my head cleared and perspective reestablished.
Our first meal in Rome wasn't necessarily by choice. We got rained on torrentially and ran into the nearest little restaurant. Unfortunately I was soaking wet and my boots had worn in so my feet were disgusting. The place was extremely Italian with no english speakers and I got some major stink-eye for taking these pictures of the food.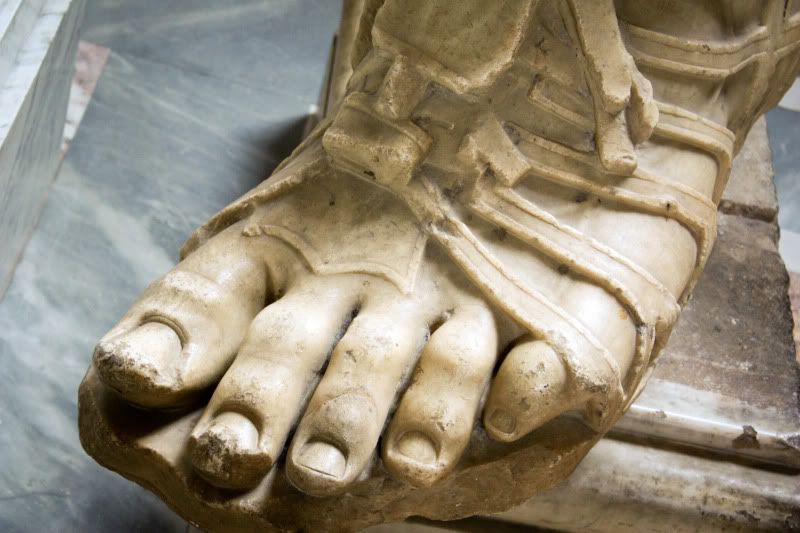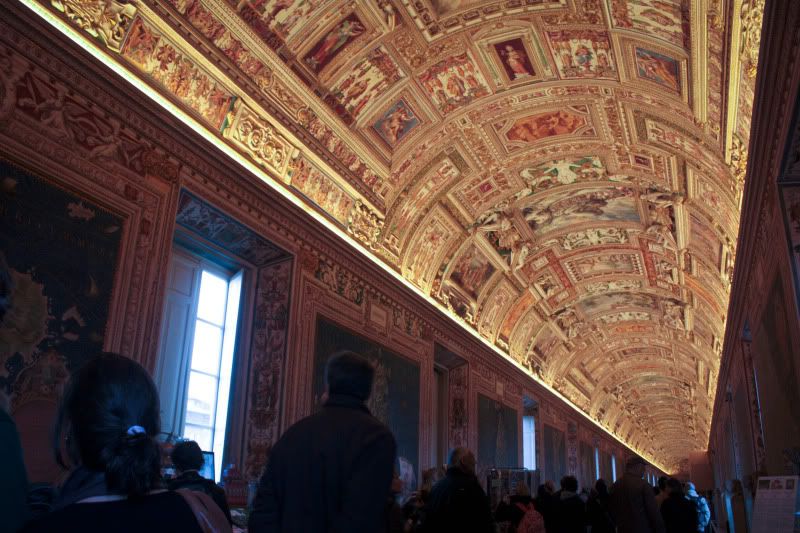 Later on we went around the corner from the St. Peter's Square and found the Vatican Museum. Inside were miles and miles of hallways filled with art. This is the Gallery of Maps which had walls covered in map paintings and a lavish beautifully painted ceiling.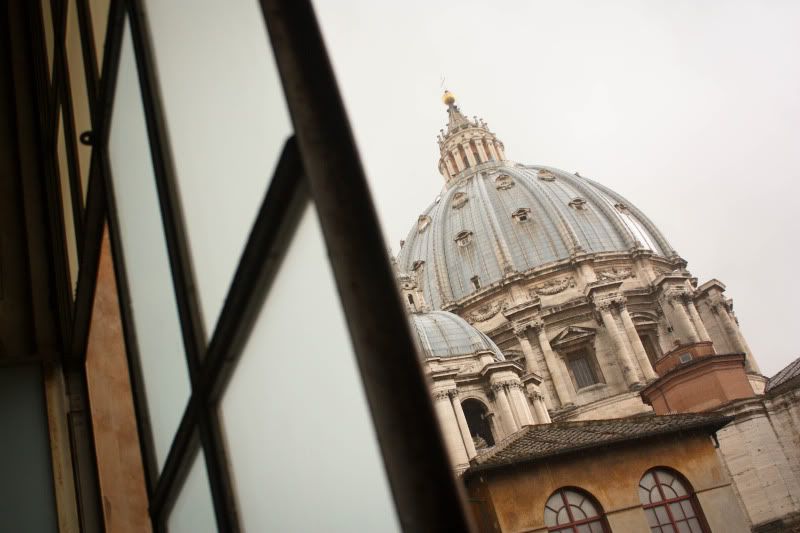 Perhaps I should have done more research before departing, because I was stunned to come across Raphael's The School of Athens inside the museum. I used to have a copy of this painting on the cork-board in my room when I was 13. Never did I think to go find it in real life.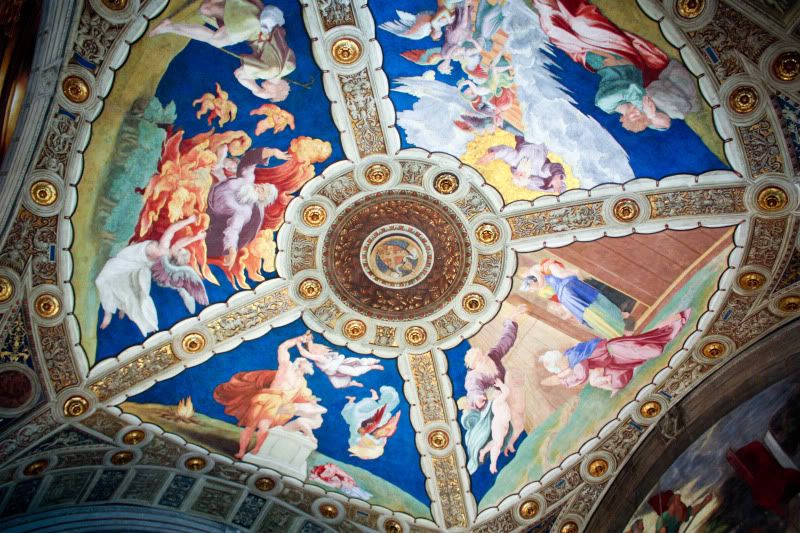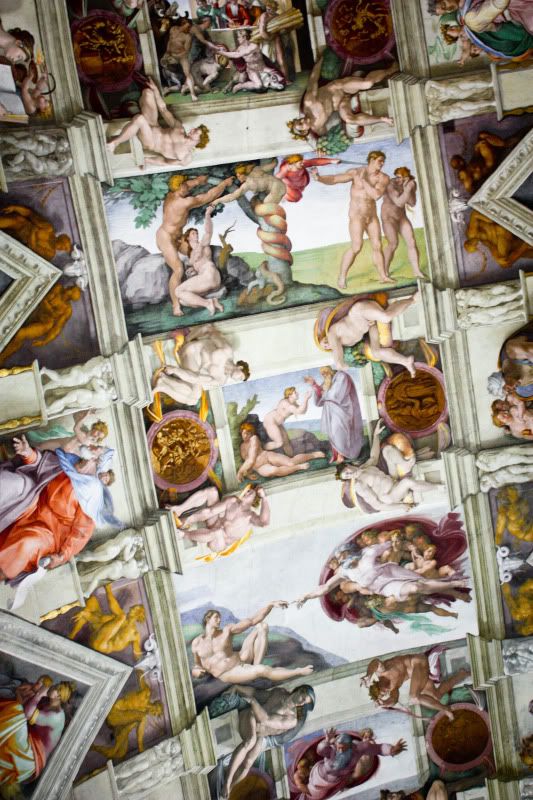 The Sistine Chapel was as crazy of an experience as I thought it would be. Although it was effected by the packed number of tourists inside, all with their heads up at the ceiling, feet glued in place. Its quite hard to maneuver through there and museum workers were constantly yelling 'SILENCIO! ... NO PHOTOS! ... SILENCIO!". My entire time here all I could think about was the overdramatic documentary about Michelangelo I watched in art class my freshmen year in high school.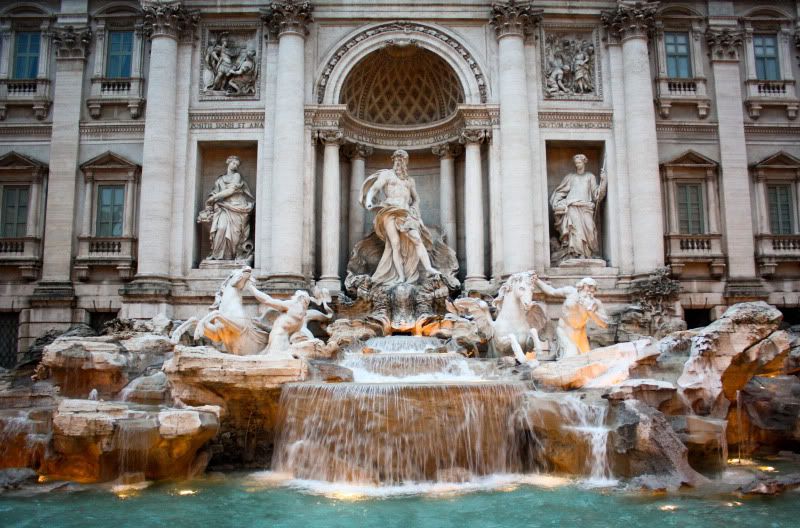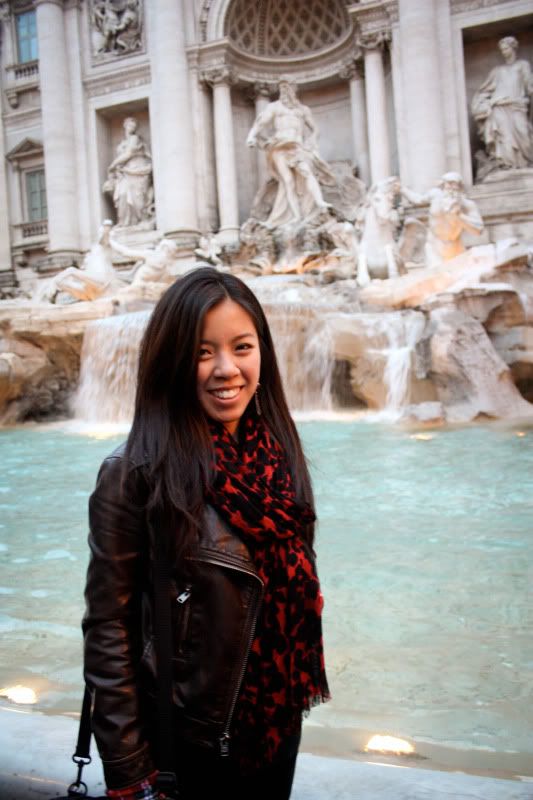 Trevi Fountain! Another place packed with tourists and con artists trying to sell you flowers, sunglasses, or umbrellas. It was entertaining to watch sly guys steal coins from the fountain with a retractable magnetic stick. I threw a coin in anyways, but because I'm not Hilary Duff in a Disney Chanel movie, I did not find my Italian stallion right afterwards. No loss really.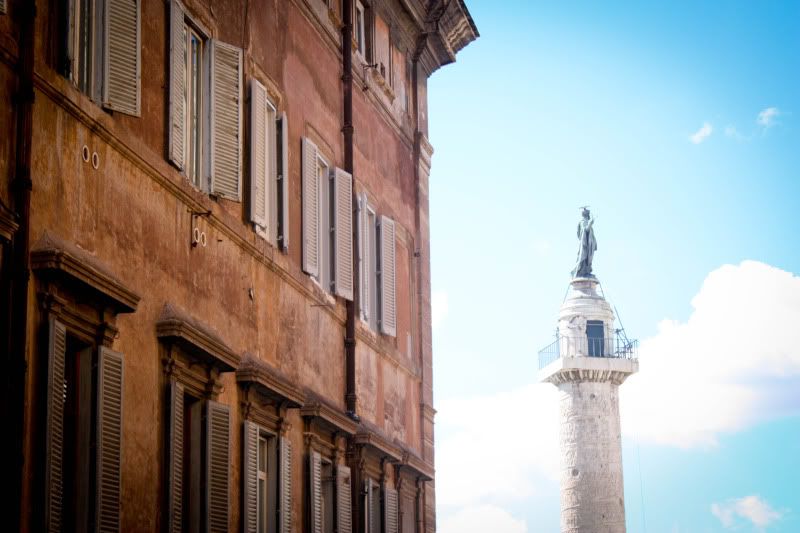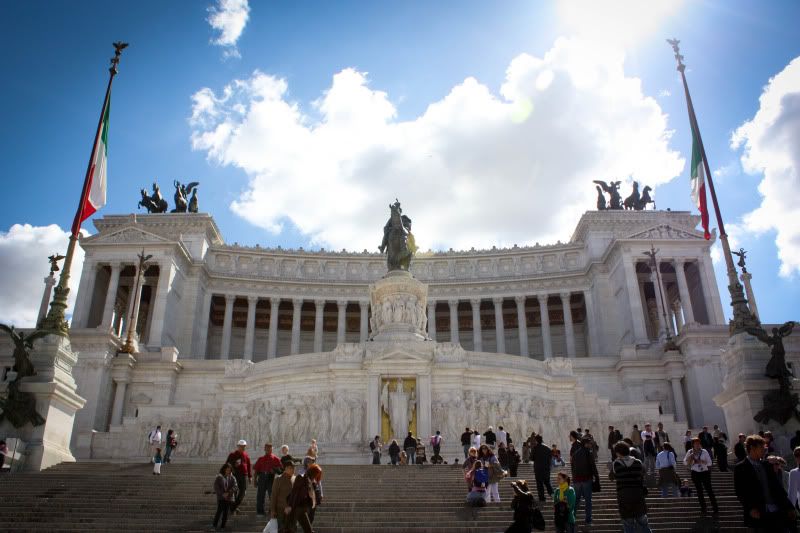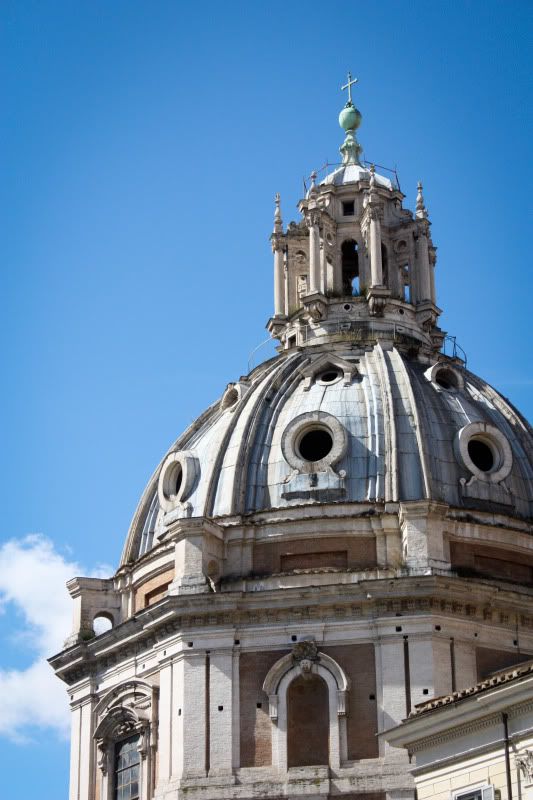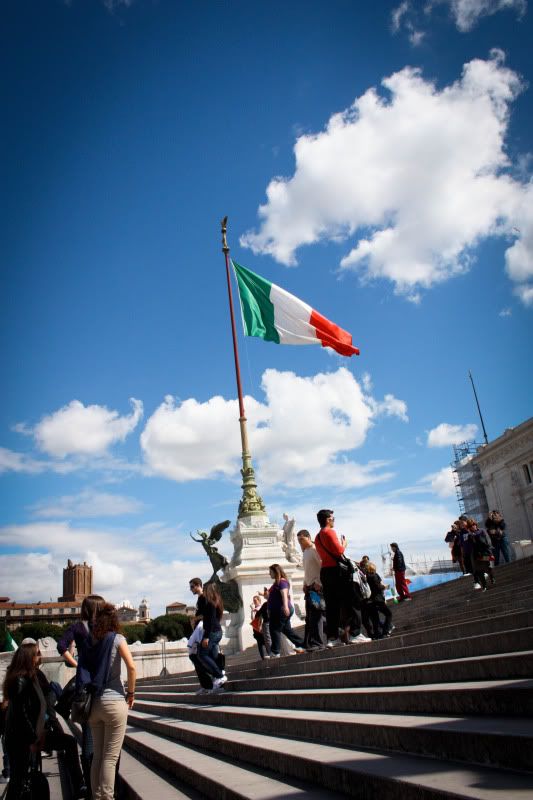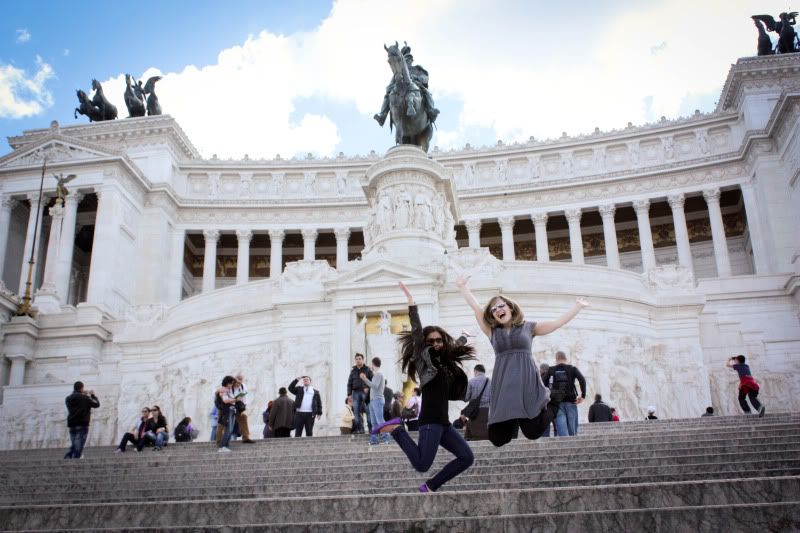 This is the Victor Emmanuel Monument we randomly came across. Amy and I attempted to take a jumping picture. I think I must have been late to jump up, because clearly my hair and legs are going crazy. Jump. Fail.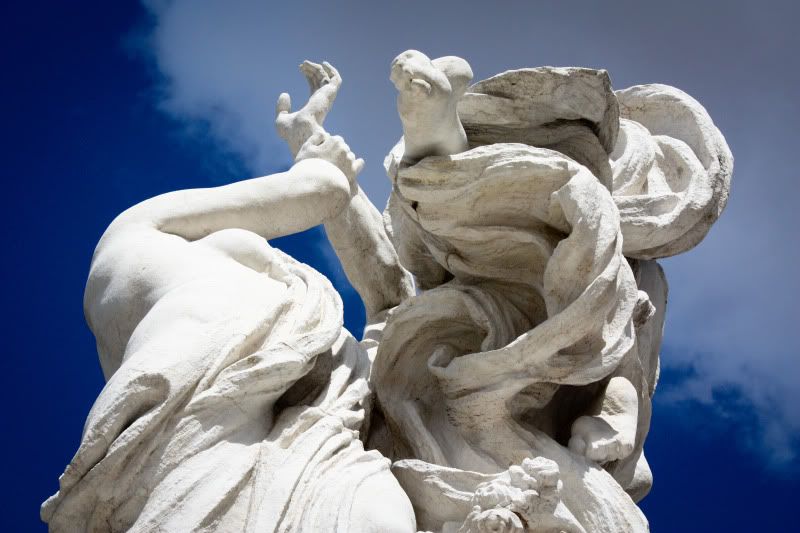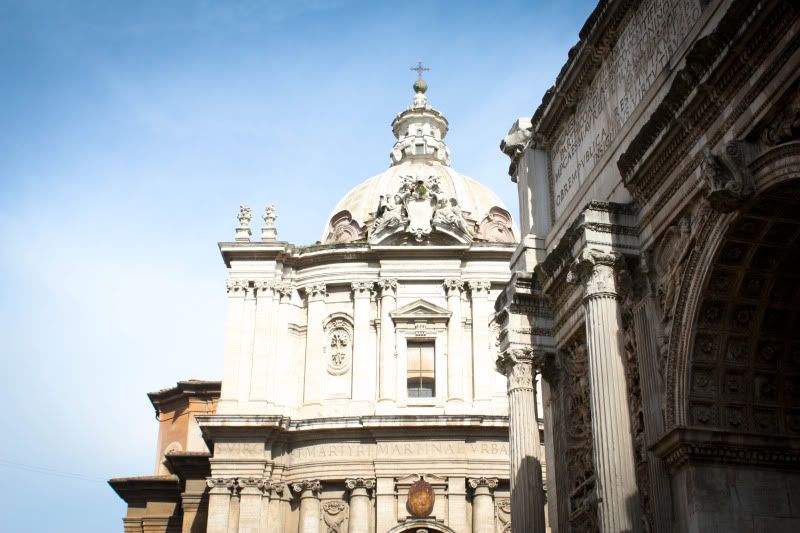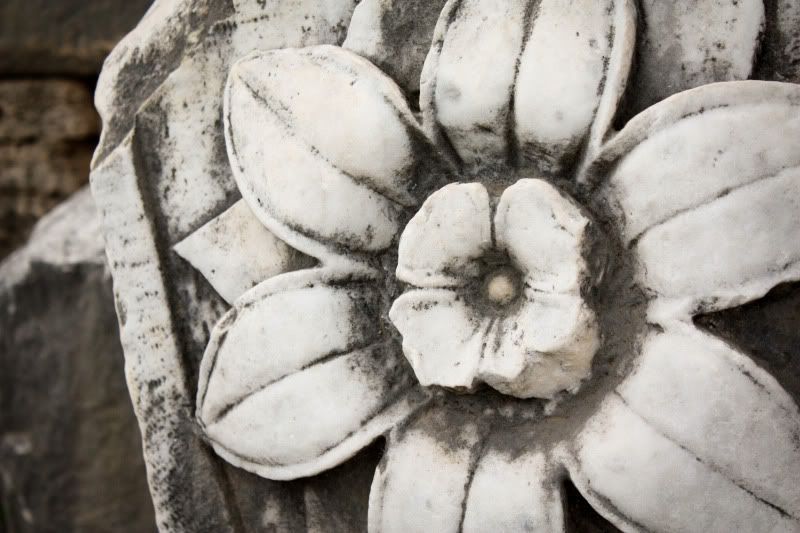 Afterwards we headed to the Roman Forum, which is where the nature of how old these structures really were set in. Its hard to imagine that a grand civilization like Rome really stood at this exact spot. I would have loved to see these ruins in their prime. It was kind of sad to think that this is all that is left of them.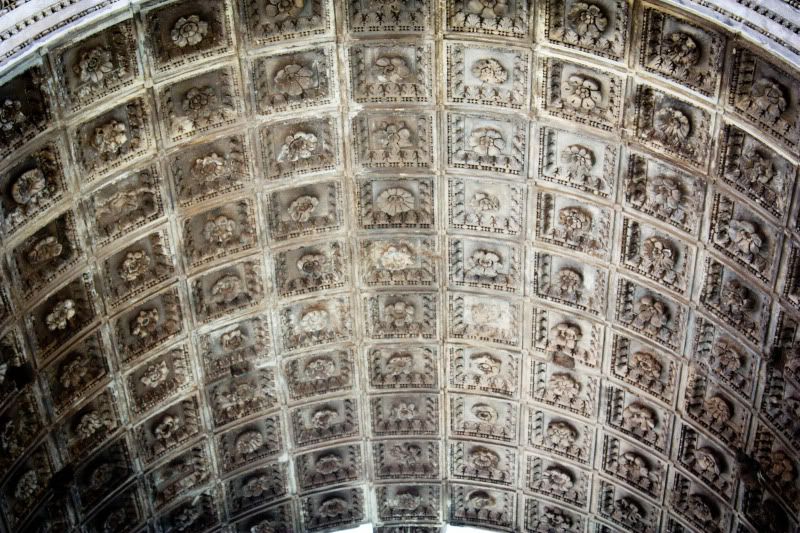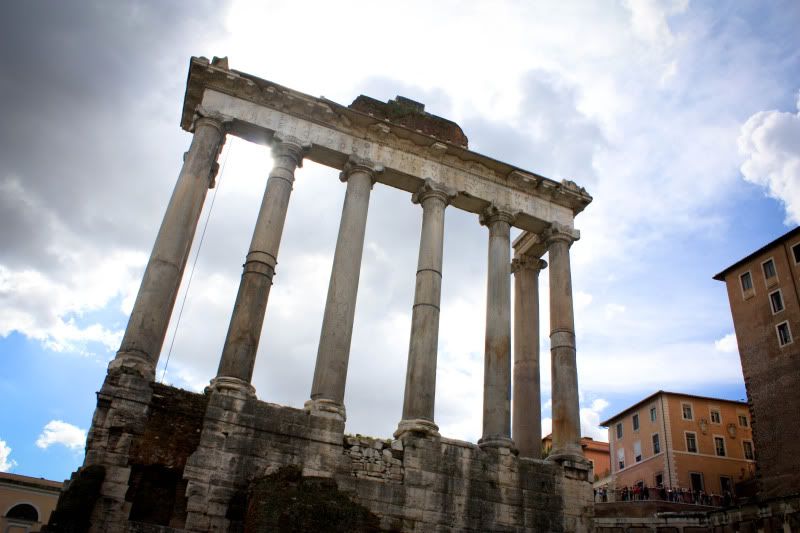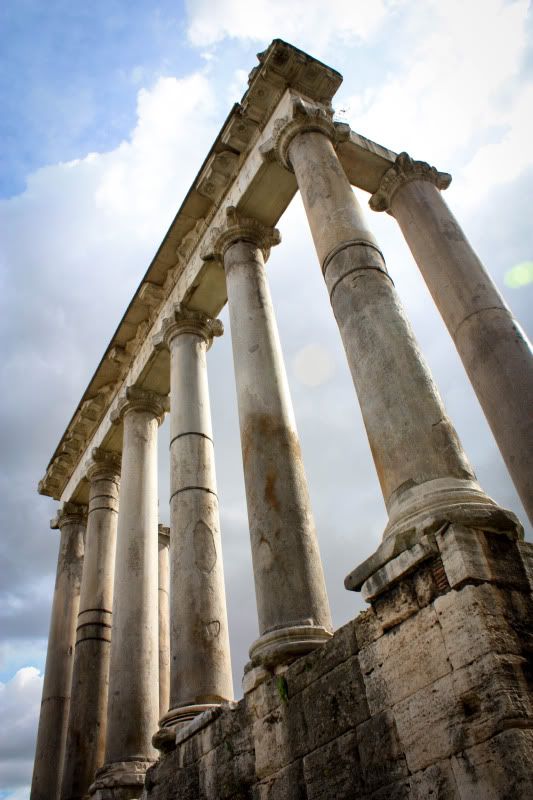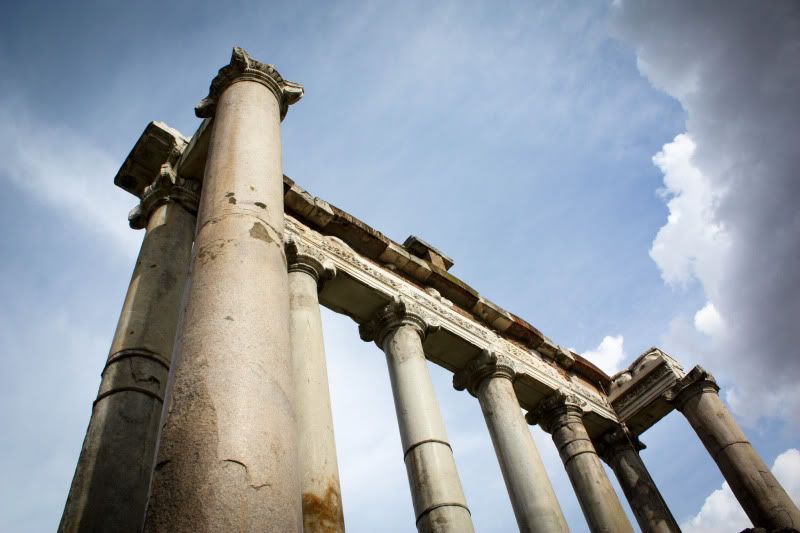 These columns were my favorite view in the Roman Forum. The gorgeousness of the sunlight hitting them and the clouds behind them was stunning. In my head I try to imagine what they looked like complete and untarnished.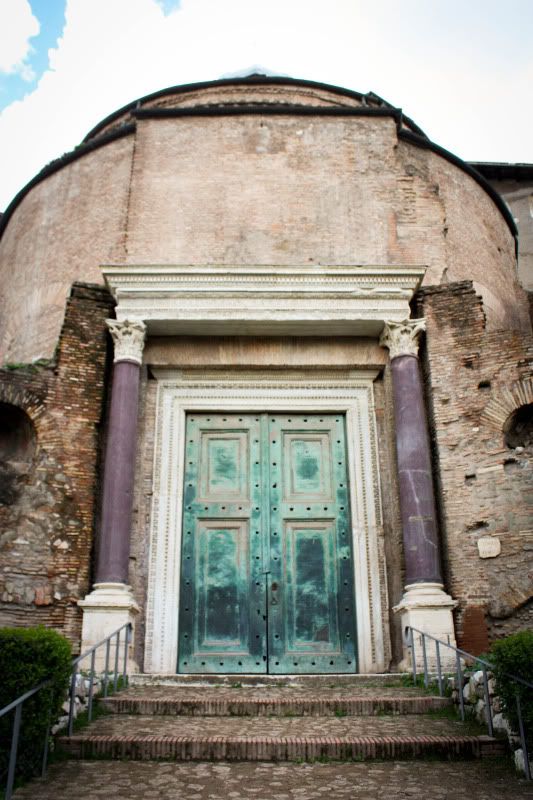 No trip to Rome is complete without seeing the Roman Colosseum. Apparently prisoners who had been condemned to death were released into the maze of this arena and chased around by wild beasts before they died. With millions of onlooking spectators of course. What a blood sport.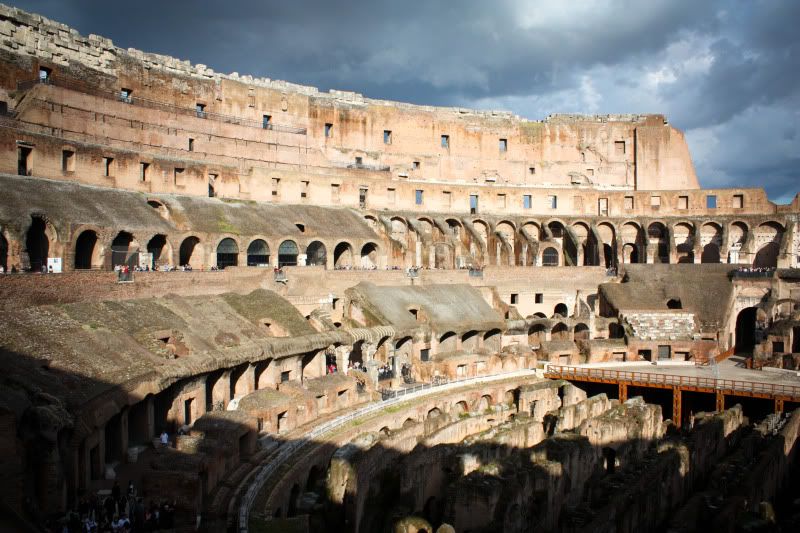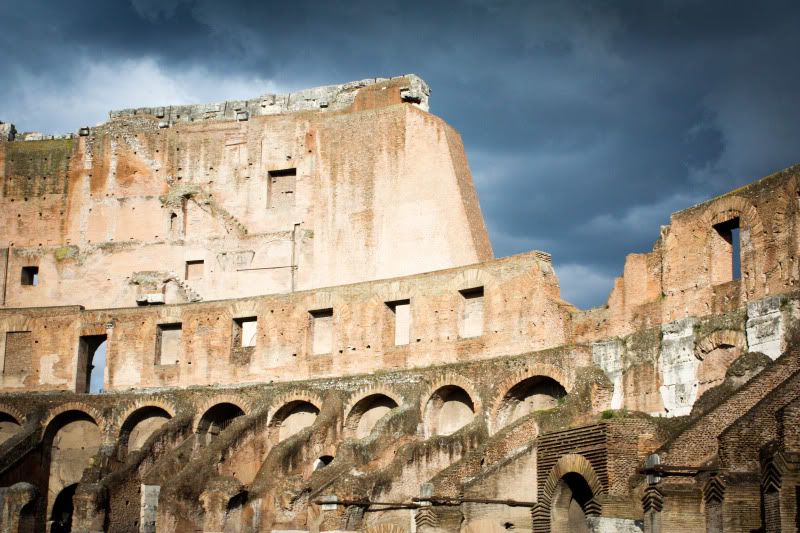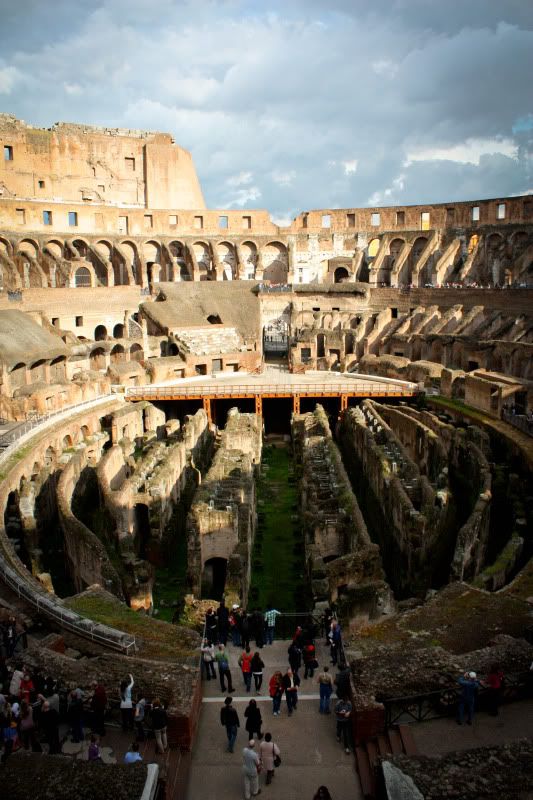 There were some epic clouds coming in around this time in the afternoon. I loved the shadow cast across the arena. It really added to the epic-ness of this sight.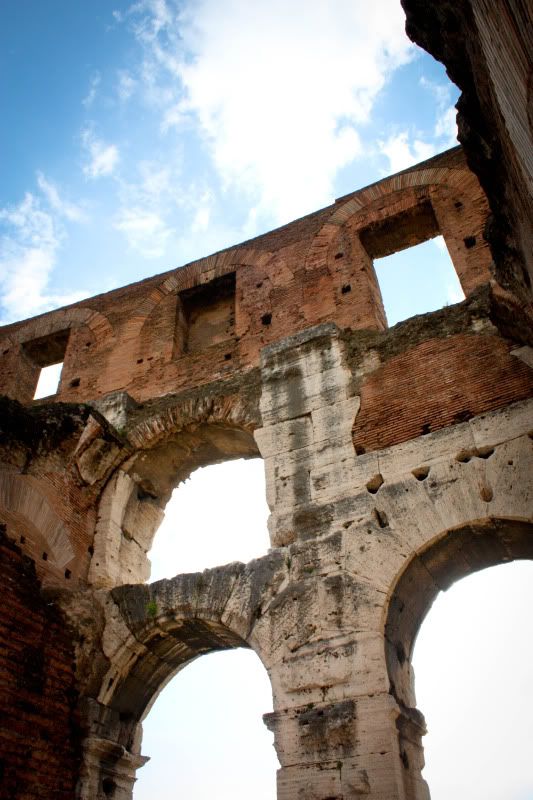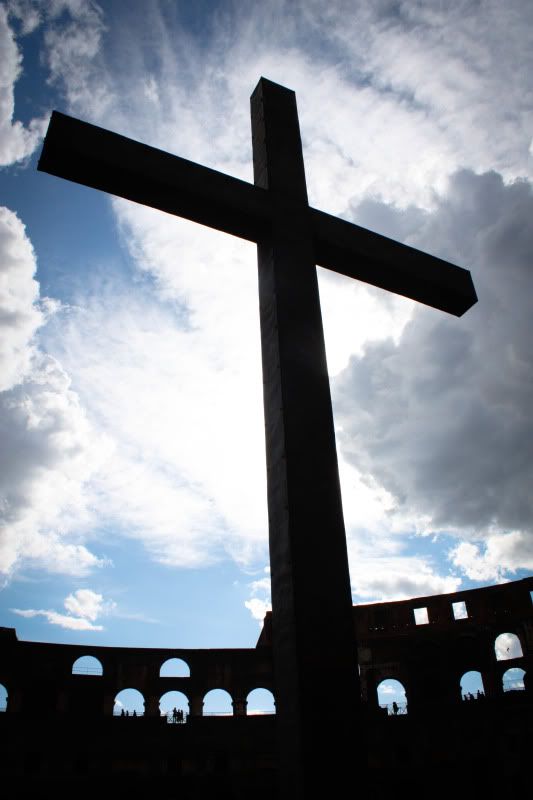 I'm not sure why there was a huge wooden cross in the Colosseum, but there was. It made a pretty stunning silhouette against the bright blue sky.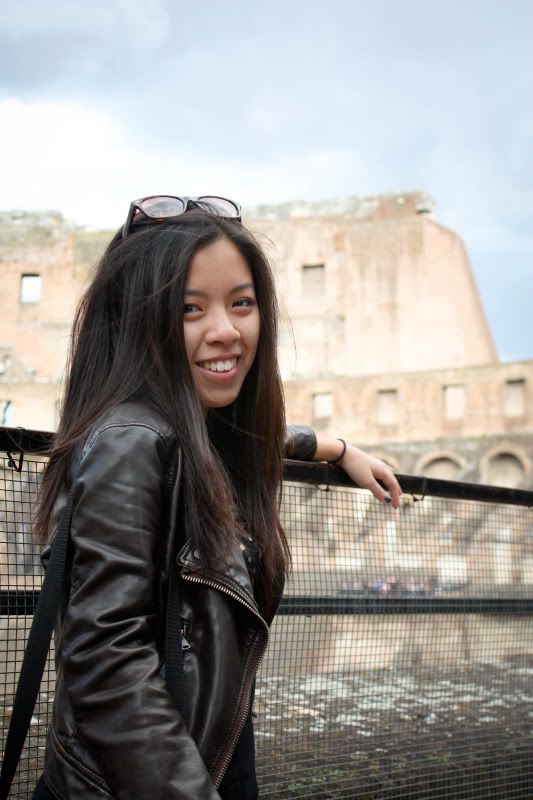 Me and the Colosseum! This seems to be my look-at-me-and-check-out-the-huge-important-monument-behind-me pose. Looking to my right. Left arm up over the fence.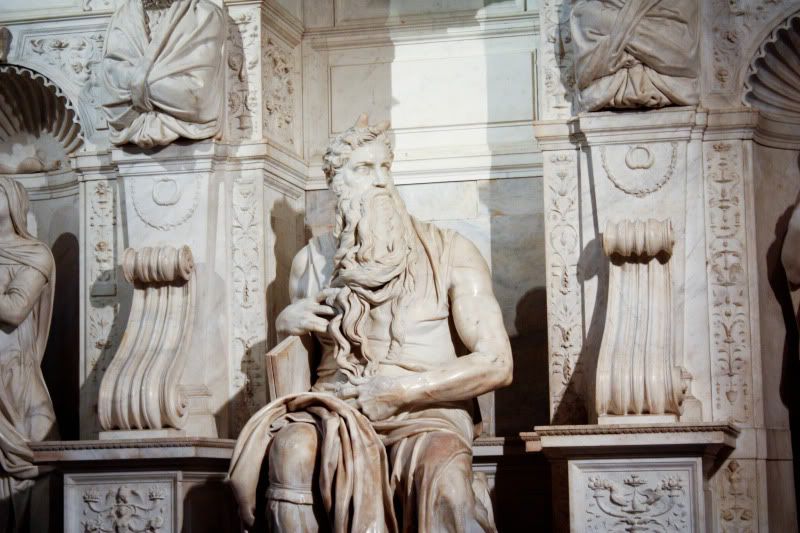 This sculpture of Moses was found after a bit of a run around. It sucks that you have to pay for the light to turn on to be able to see important sculptures. Kind of cheapens an amazing experience. Never the less, the detail in Moses' beard twirling around this fingers carved in stone was stunning.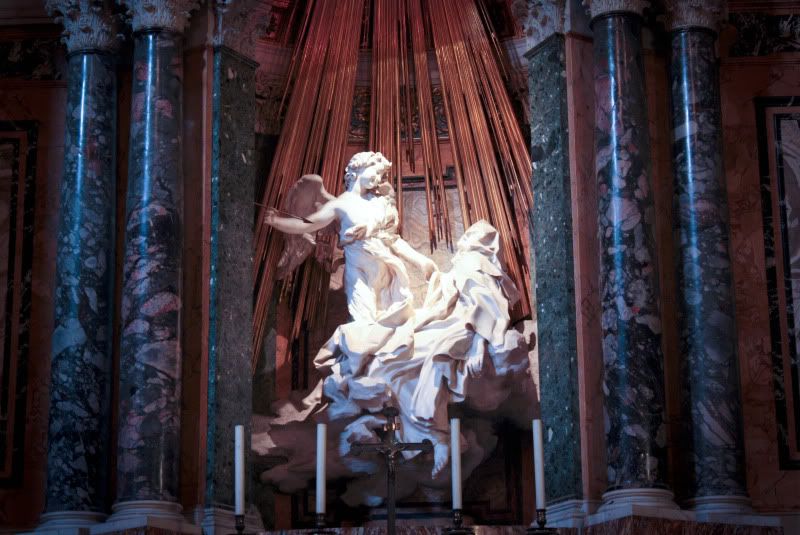 This was probably the epitome of my time in Rome. If you've read my blog for long enough, you know that Bernini's The Ecstacy of the Saint Theresa is one of my biggest inspirations of all time. I used to have a picture of it permanently on the side of my blog before I cleaned up my layout. There is just something about the way the cloth feels like it is really flowing, the detail in the angel's face, and the way the golden beams glow behind them. I sought to see this above everything else in Rome and I was satisfied to finally find it in a small unassuming chapel.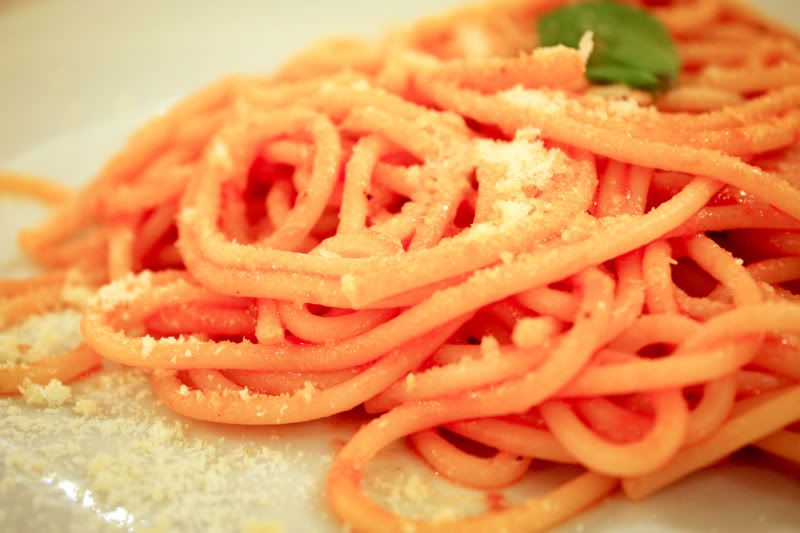 Our last meal in Rome, just like our first, was forced upon us by the rain. It started pouring down like never before right when we were nearing our hostel. We dove into the nearest restaurant once again. But this restaurant unlike our first, had an amazing owner and waitress. They were very warm and friendly and provided the perfect small mom and pop atmosphere for our last Italian meal. I had Tomato Basil Spaghetti and was the happiest I've ever been after a meal.
I miss my time in Italy because I always knew my next meal would be fantabulous. Even the nights we bought cheap swirly bread from Billa with frishkase for dinner were so satisfying. If you ever talk to me about food in person, you would probably think I have some sort of obsession.
I don't have an obsession with food, I swear.
Chocolate however, is a whole other story.
Rach:]