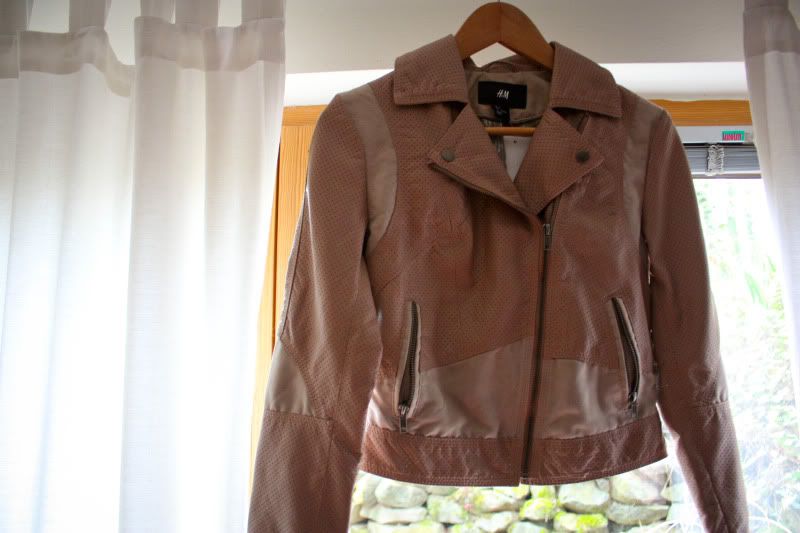 Nothing too big has been happening here in Germany since I've gotten back to school. In my animation studio we have started our new project. I won't go much into that assignment, but if you are curious you can read up on it at my professional blog,
A One Nhan Show
. I don't like to talk too much about school here on my personal blog.
I wanted to share a few things I've been obsessed with lately. I finally went shopping for the first time in Germany. My friend Amy and I hit up H&M and Zara one afternoon. I've bought a scarf from an H&M in Amsterdam before and that store was 5 stories high. The H&M here in Bonn is only 3 stories, so it was jam packed with people. I ended up buying this mauve and beige perforated leather motorcycle jacket. Its a little different from my other 9 leather jackets, which is why I decided to get it. But I have also yet to wear it because I'm not sure I can pull it off well.
I love the holed texture it has and the suede inserts on the elbow, shoulders, and waist. It doesn't go well with gray T-shirts or patterned scarves, but I will figure out how to wear it right and have an outfit post soon I promise.
It has finally warmed up here in Germany and since my studded motorcycle boots wore through, I bought these black leather flats. A boring basic, but very much necessary. I love them and for 9 euro, I couldn't be happier.
Since spring is finally here, I put away my heavy winter scarves and traded out for this light spring scarf. Its got more of a handkerchief shape, which took me a while to learn to wear correctly, but I am obsessed with the graphic black and white zig-zags on it.
Not to go all Lagy Gaga on you, but these here are my little monsters. There are these chocolate eggs here in Europe called kinder-eggs that contain little toys inside of them. Most of the toys I find useless or strange, but I love the little monsters that I have gotten in a few. I went on a long streak of continuously buying kinder eggs in hopes of getting another monster, but I've calmed down and stopped now. Amy on the other hand is determined to get a little toy wolf from a kinder egg. I wish there was a way to tell what kind of toy was inside of an egg before buying it.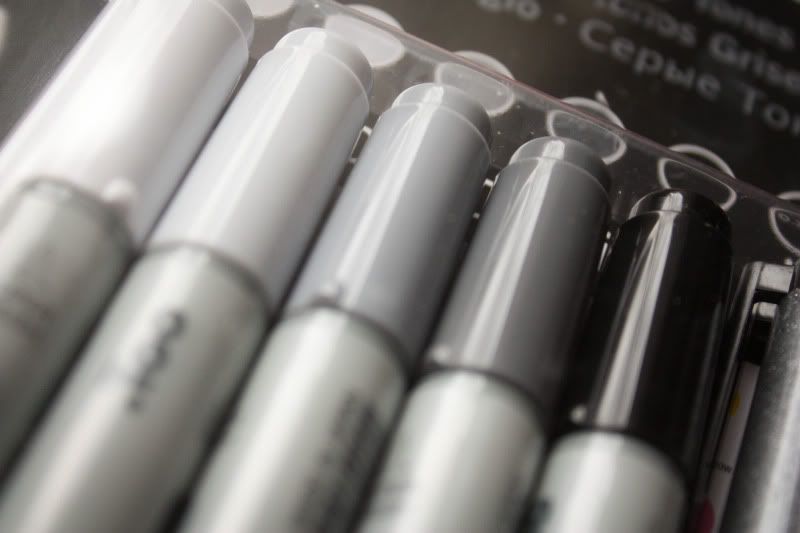 I bought a grayscale set of copic markers the other day from the art store in town. I am super excited about them because I've always wanted a full color set of these markers, but that would be ridiculously expensive. So I will settle for these. Hopefully I will get around to using them to make myself a new blog header soon.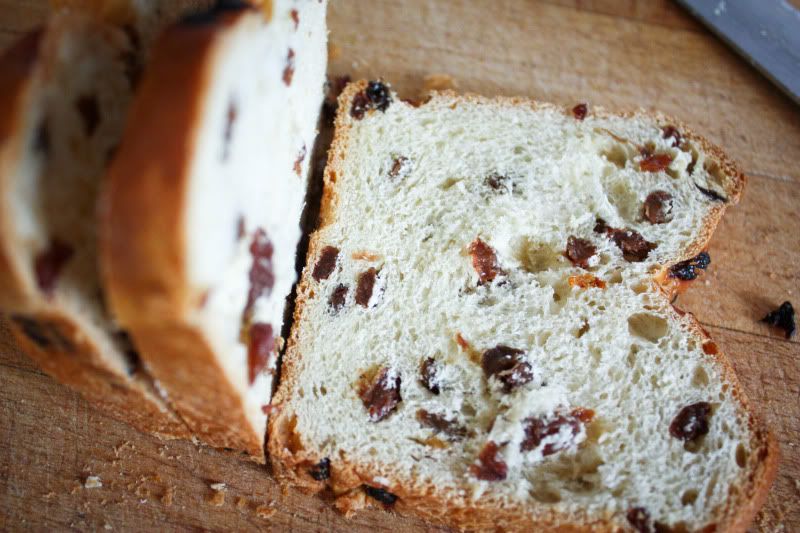 Okay so usually my obsession with chocolate is the most driving force in my appetite, but recently I have found a new love and its name is raisin bread. Rosinenbrot in German, I love it when my host family has a fresh loaf of it on the counter. I even craved it so much that I stopped by a bakery and bought it myself the other day. At 2 euro for a huge loaf, I was thrilled.
Its something about the subtly sweet dough and tart raisins that appeals to me. Although bread isn't exactly healthy, I consider it a better addiction than chocolate. I was buying Ritter Sport chocolate bars at an embarrassing rate, but now I have controlled myself to stop.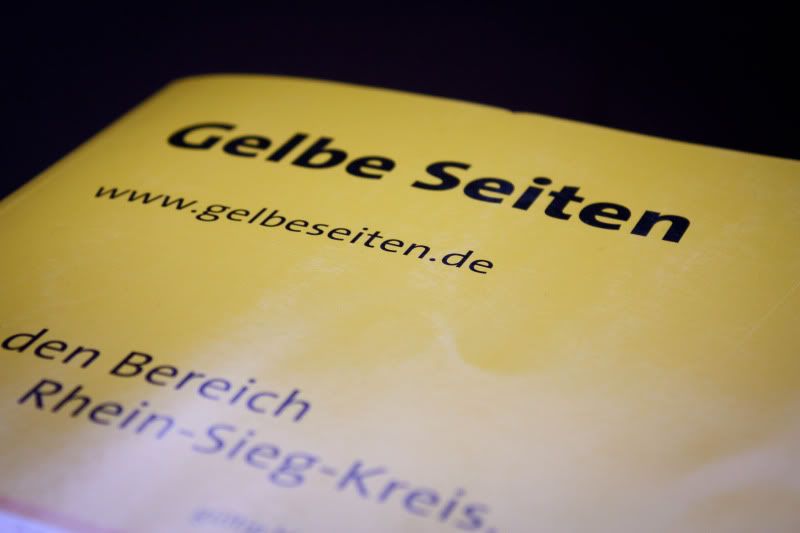 Now I know I said I don't like to talk about school too much on this blog, but I will make an exception for the last 3 day workshop project we had. Although the assignment had nothing to do with what I decided to create, I pretty much dove into it head first. Almost to an unhealthy obsessive level. Well really to an unhealthy obsessive level.
As a take on the notion that all fashion is constantly changing and trends are always becoming obsolete I decided to make a dress out of the pages of a phone book, which have become useless in our high tech society. Yellow pages, or Gelbe Seiten in German, were incredibly hard to find to make my dress. Completely illustrating the point of my project, the guy I asked at a phone shop told me that I was being ridiculous to ask for a phone book and that I should go use the internet.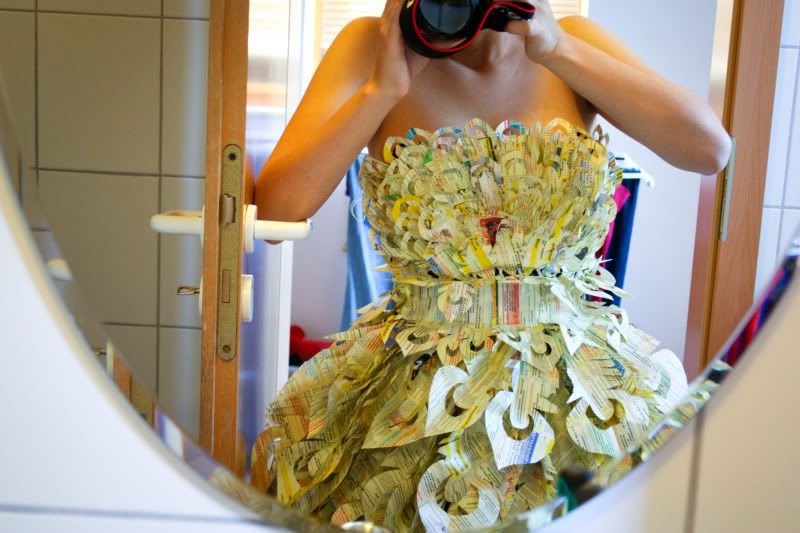 So basically I fell into a single-minded hole of madness after assigning myself my own Project Runway challenge and didn't eat or sleep correctly for 3 days. I bought a cheap dress on clearance from a random shop and completely took it apart. Seriously. It had a big collar, a huge Lady Gaga-esque bow on the right boob, and a pleated skirt before I got to it. I cut it up, added a skirt of nylon underneath, and sewed on about a million of these hand-cut phone book page peacock feathers all over it.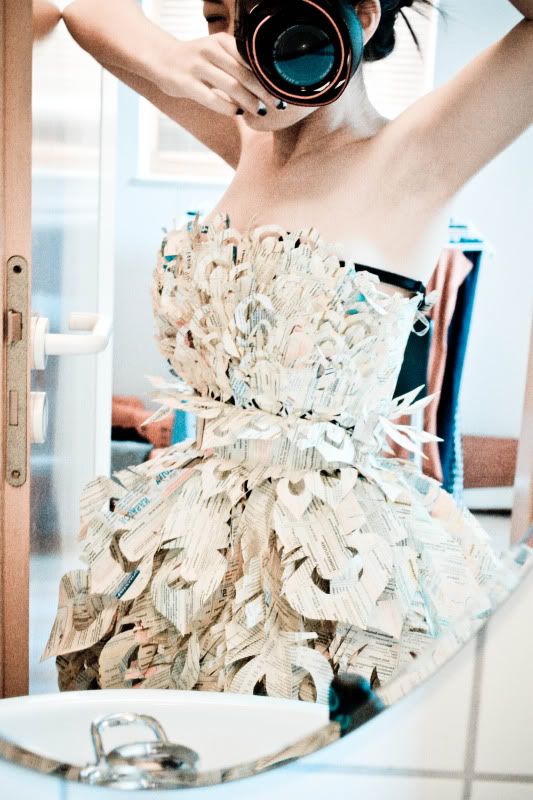 After emerging from my brief stint of obsession, I was unsatisfied with the end result. This project was definitely a learning experience for me.
I learned 3 things:
1) I can't sew. At all. Like really, the number of times I got the thread knotted up and jammed is ridiculous. And I wasn't even using a machine, but hand sewing.
2) I need to start designing within my skill level. Which is pretty low. I was going for something Black Swan meets Alexander McQueen and ended up with Betsy Johnson meets Tinkerbell.
3) If I even want to start entertaining the idea of going into fashion, I have so much to learn. From actual pattern making to sewing on a machine to designing logically.

Oddly enough, even though I'm sad that this project didn't turn out as well as I had hoped, I feel inspired to try harder and achieve something better soon. This is my first attempt, but it won't be my last. While not exactly a failure, this has driven me even harder to succeed next time.

I've decided to put this dress on the back burner for a little while so that I can have my sanity back. Hopefully in a week or so I will return to it with fresh eyes and fix some of the issues I'm having with it. I feel like the volume on the bust part is too much and the waist needs to be more defined. When I am done though, I plan to take better pictures in it and post them here soon.
Rach:]