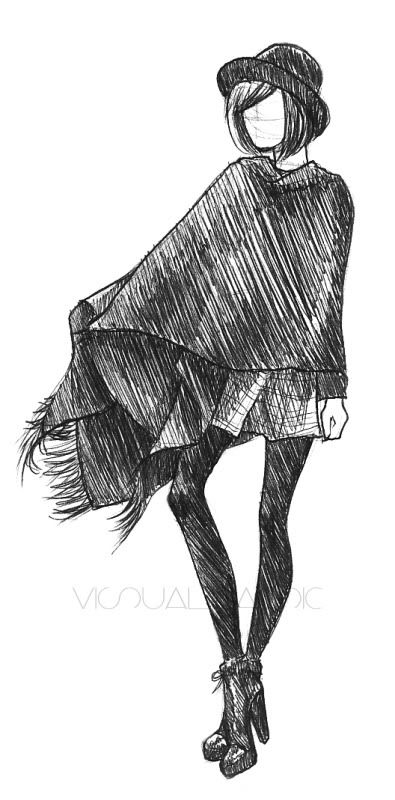 Hello there bloggers! Welcome to the Thirty-Fifth edition of
Blogger Sketch Sunday
. This week's post features E of
District of Chic
, whose blog I assume is located near Washington D.C.
3 Reasons I love this blog:
-I would describe this blogger's style as a throwback to ladylike polish with a few touches of grunge here and there. Her wardrobe is full of more mature pieces such as long lace robes or sheer wide-legged trousers, but she punches it up with a dramatically cut leather jacket or chunky lace-up ankle boots.
-I love love love when fashion blogs throw a few food posts in the mix. This blogger does one even better and includes delicious recipes such as Green Chile Stew and Tomato Pie. Sweets usually appeal to me, but my host family's vegetarian meals have make me appreciate amazing dishes such as those on E's blog.
-She's mysterious. Most of the appeal of blogs are that they are an inside peak at someone else's life and in our celebrity obsessed society, we as an audience thrive off of feeling like we know a person we've never met. This blogger keeps her location unspecific, her name simply a letter, and the words in her posts minimal, and I really respect that.
If you have never seen her blog, you need to go check it out. I have put the link where I first named her blog above.
This is a practice exercise with the grayscale copic markers I just bought. It was inspired by an old photo of Edie Sedgwick I came across the other day. I say 'inspired' because it really doesn't look like her. I'm happy with it as a random trial run of my new markers, but it looks more like a woman who is imitating Edie Sedgwick, rather than the real 60's icon herself.
But practice makes perfect and I love my new markers!
Rach:]