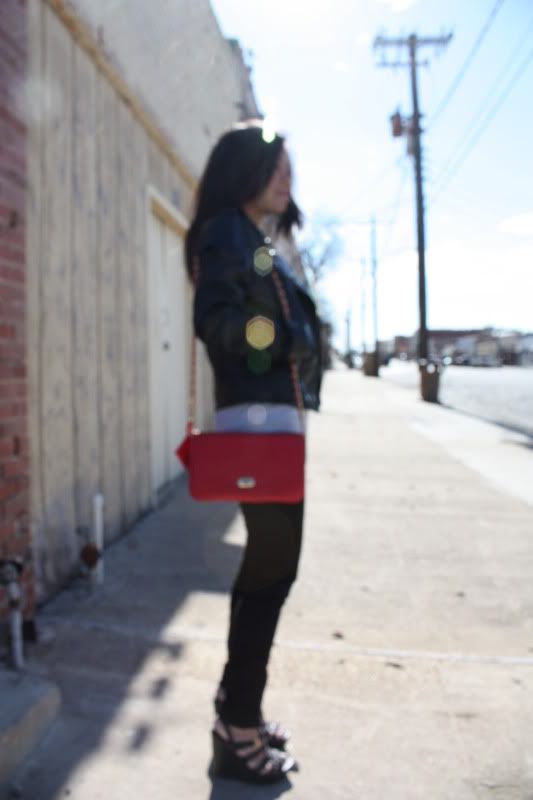 I've been in Berlin on a school trip since Wednesday morning and will not return to Bonn until Saturday, so I've scheduled this post to be published in my absence. I promise to post many pictures from my excursion to the capital of Germany when I get back.
A few days ago, Mary Louise was kind enough to email me and asked me if I wanted to be featured on her blog,
Style [According to Me]
. Of course I said yes! I've featured 35 bloggers to date on my own blog, so its a thrill to be featured on another person's blog for a change. Mary Louise asked me a few questions and posted the interview on her blog along with a few pictures of me and a few of my drawings.
The interview with me is below, but don't forget to check out the full feature post on her blog [
HERE
]. And stick around on her blog to see some cute outfits and inspiring fashion editorials! Thanks again, Mary Louise, so being gracious enough to do this. You are amazing!
I'm currently working on a Frequently Asked Questions page to answer all of the questions I've been getting in emails recently. Sorry I haven't responded to all of them, I'm hoping an F.A.Q. page will do the trick. Until then, hopefully from these questions, you can learn something new about me that you never knew before.
Rach:]
1.

What inspired you to start your own blog

?
My interests are very varied and broad, so its hard for me to explain to people what I like to do. So instead of sending them on a wild goose chase to my Deviantart for sketches, Chictopia for outfit posts, and Facebook for photography; I wanted to consolidate them into one place on the web. I feel better knowing that if people ask me what I'm interested in, with one click to my blog, they can see what I'm all about.
2.

What do you enjoy most about blogging?
Blogging is my greatest motivator. I don't blog for comments or followers, but blogging inspires me to get up off the couch and do something. I like to make personal goals for myself such as the 30 for 30 outfit challenge or my Blogger Sketch Sunday posts because they drive me to achieve something I otherwise wouldn't do on my own.
I'd say my modern day fashion icons are Rachel Bilson, Miroslava Duma, Emma Watson, and Kate Lanphear. Rachel Bilson knows how to look effortlessly stylish yet casual. Miroslava Duma has the perfect balance between ladylike grace and trendy youth. Emma Watson knows how to amp up the edgy drama. And Kate Lanphear has the rockstar uniform down to a tee.
But of course, Audrey Hepburn and Edie Sedgwick will always have a strong influence on me. Nothing beats Audrey's classic chic LBD's or Edie's mod appeal of the 60's.
4.

What is your favorite blog to read?
My favorite fashion blog that got me seriously addicted to all fashion blogs is Karla's Closet. Above all else, her style is always so quirky, yet polished, yet laid back. I love it. Other fashion blogs I read are Song of Style, Elenita, Le Blog de Betty, Atlantic Pacific, and Stockholm Streetstyle.
Some non-fashion blogs I love are Igor + Andre for illustration inspiration, Le Love for insights on love, College Fashion for college-appropriate advice, and Bakerella for the cutest desserts you've ever seen.
5.

What is your favorite current trend?
While I do collect images from the runways every season, I don't consider myself up to date on trends. I stick to my staple leather jackets, sheath dresses, and basic blazers most of the time. But if I were to be attending a red carpet event, I adore the new maxi dress trend. I mean long dresses have always been in for formal wear, but now its been sexed up with either a thigh high slit or yards of gauzy sheer material. Nothing says drama like a billowing floor sweeping gown.
6. Who is your favorite designer and artist?
My all time favorite designers are Alexander McQueen, Michelle Smith of Milly, Oscar de la Renta, and Dean and Dan Caten of Dsquared2. But lines such as Charlotte Ronson, Matthew Williamson, Naeem Khan, Lela Rose, Moschino, and Elie Saab have been putting out some spectacular shows.
Artists wise, I actually look to non-2D traditional artists for inspiration. I love sculptors like Gian Lorenzo Bernini, architects like Gerrit Rietveld, and photographers such as Bill Brandt or Margaret Bourke-White. I find that looking for inspiration outside of the medium you work in feels fresher, but if I had to name a few 2D artists I'd say Chuck Close, Joseph Stella, and Jasper Johns.
And if I'm looking for inspiration from fashion artists other than Danny Roberts of Igor + Andre, I turn to Garance Dore who illustrates as well as photographs fashion and Kathryn Elyse Rodgers of Paperfashion.
7.

What is your favorite place to shop?
On any given day I am wearing at least one item from Target or Goodwill. Those 2 places pretty much make up my wardrobe. When I lived in Austin, I shopped religiously at Buffalo Exchange most of the time. In College Station the only place to go is Forever21 so I've gotten into that. But now that I'm in Germany, I love hitting up the many H&M's and Zara's that are here.
8.

When did you begin to draw?
I hate to sound pretentious and say that I've been drawing all of my life, but I honestly cannot remember a time in my life when I wasn't drawing. Even in my younger school years I kept a sketchbook and I took a few art classes in high school. Although I went to college to study Computer Science for a few years, I still drew a lot frequently. Now I'm a Computer Animation major which still uses technology, but also requires sketching skills for preliminary work, so its all comes into play. I honestly don't know what I plan to do with my life, but I hope that continuing to draw will be included.
9.

What do you like most about your art?
I learned a long time ago that art is subjective and if you plan to be the best, you will never be an artist. To me, art is more about the process than the end result. Art is a learning process. Every failed work leads you closer to a better one. About my Blogger Sketch Sunday posts, I am rather embarrassed that people pay attention to them. They are just quick doodles that I do to take up free time and I hope people aren't judging my skills from them. I wish that people could view my more detailed serious stuff, but I am really bad about getting around to posting them.